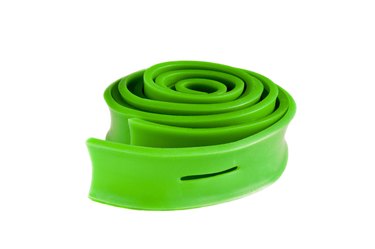 Resistance training can be done to help build muscle, lose weight and boost metabolism. The Centers for Disease Control and Prevention recommends that adults get at least 150 minutes of physical activity in each week, including muscle strengthening exercises and aerobic activity. One way to meet this goal while strength training is with the use of exercise bands. Select exercise bands based on comfort, ease of use, tension level and accessories, such as door attachments that allow you to vary your workout even more. You must properly secure the band to the door for a safe and effective workout.
Anchor Attachment
Step 1
Choose a sturdy door that locks to which to attach the band. Check the door to make sure it closes securely.
Step 2
Open the door and thread the loop of the anchor through the opening between the hinges.
Step 3
Walk around to the other side of the door and pull the loop until the attached tape is taut.
Step 4
Close the door and lock it from your side. Then open the loop and attach your exercise band to the anchor.
Door Handle Attachment
Step 1
Connect your exercise bands to a sturdy door handle.
Step 2
Double up your exercise band and wrap it around the door knob with equal lengths of the band on each side.
Step 3
Bring the loose ends of the band through the connected end and pull the loose ends all the way through to make the bands tight around the door knob.
Step 4
Lock the door from the attachment side before starting your exercises. This prevents someone from opening the door.
Warning
Only attach your exercise bands to sturdy doors and door handles, to prevent injury.
Talk with your physician before starting a new exercise program.