The number of calories in a cup of mixed fruit depends on whether you're eating fresh or canned fruit as well as exactly which fruits are included in the mix. Some fruits have a lot more calories per cup than others. For example, a cup of watermelon has only 46 calories, while a cup of sliced bananas has 134 calories.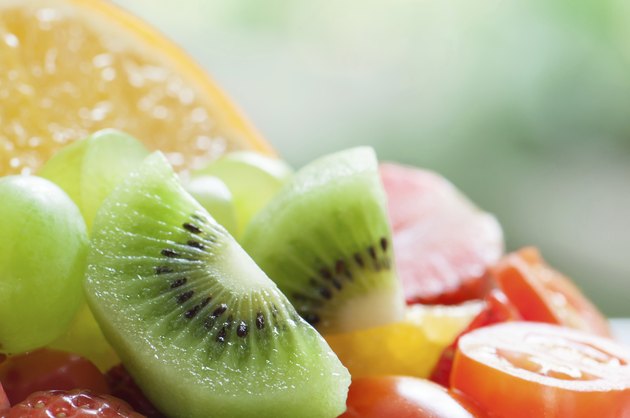 Canned Mixed Fruit
Canned fruit tends to be higher in calories than fresh fruit because it is usually canned in sugary syrup, which can add a lot of calories. A cup of mixed fruit, including cherries, pineapple, apricots, peaches and pears, canned in light syrup has about 146 calories. Choose the same mixed fruit canned in juice and it only contains 125 calories per cup. A cup of tropical fruit, including pineapple, papaya, guava and banana, canned in heavy syrup has 221 calories.
Sample Fresh Fruit Mixes
A combination of fresh apples, oranges, grapes and raspberries will result in a cup of mixed fruit with about 69 calories. An equal mix of fresh strawberries, cantaloupe, honeydew and watermelon contains about 54 calories. Mix fresh mango, bananas, blueberries and kiwi fruit for a salad containing approximately 107 calories per cup.