While you may think that the best way to lose weight is to limit fat as much as possible, this isn't necessarily the case. You need some fat in your diet to stay healthy, and it can make your food more satisfying and your diet easier to stick with. The type of fat you consume is also important -- some kinds of fat may have weight-loss benefits.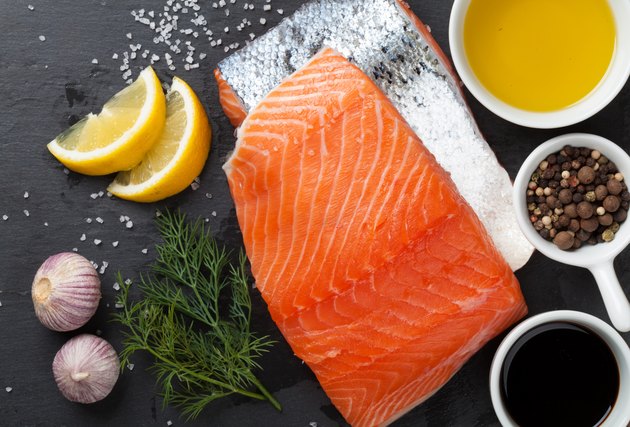 Recommended Fat Consumption
According to the U.S. Department of Agriculture, getting between 20 to 35 percent of calories from fat, which is considered a low-fat diet, is necessary for optimum health benefits. Less than 10 percent of fat consumed should come from saturated fat, which is the main type in many animal products, and less than 1 percent -- and ideally none at all -- should come from trans fats, which are found in processed foods made with hydrogenated oils.
Omega-3 and omega-6 fats are essential fats that you must get from your diet because the body can't make them. Together they make up the polyunsaturated fats. Between 5 and 10 percent of your calories should come from omega-6 fats, which are found in vegetable oils and nuts, and about 1 percent of calories should come from omega-3 fats, which are found in fish and flaxseed. The remainder of your fat should come from monounsaturated fats, such as those in olive oil, nuts and avocados.
How Many Grams of Fat Per Day
The number of grams of fat you can eat depends on the total number of calories allotted for your diet plan each day. Fat has 9 calories per gram. So someone who eats 2,000 calories per day is shooting for 20 to 35 percent of those calories from fat -- which is between 44 and 78 grams of fat per day. Ideally, that amount of fat should consist of no more than 22 grams of saturated fat, between 11 and 22 grams of omega-6 polyunsaturated fats and 1 to 3 grams of omega-3 polyunsaturated fats. The remaining fat should come from monounsaturated fats.
Importance of Fat for Losing Weight
Fat plays a role in helping people feel full and satisfied after eating. Including at least a small amount of fat in your meals and snacks can help trigger the release of certain hormones that help increase satiety and slow stomach emptying, helping you eat less at later meals, according to an article published in The American Journal of Clinical Nutrition in 2007.
Low-Fat Versus Low-Carb for Weight Loss
When it comes to losing weight, the best diet is the one you can stick with. A study published in The New England Journal of Medicine compared diets with varying amounts of fat, protein and carbohydrates and found that diets that cut calories result in weight loss regardless of their exact macronutrient composition. The diets used in the study had between 20 and 40 percent of calories from fat. A review article published in Psychiatric Clinics of North America in December 2012 found that people following their preferred diet, whether it was low-carb or low-fat, lost more weight than those assigned the diet they didn't prefer.
Type of Fat
Some fats are definitely better than others for those seeking weight-loss benefits. For example, an article published in The American Journal of Clinical Nutrition in 2009 reported that while unsaturated fats helped increase satiety, the same wasn't true with saturated fats. Those who have a hard time sticking with a low-fat diet may be able to lose weight and keep it off on a moderate-fat diet, with between 35 and 45 percent fat, as long as the fat consists mainly of monounsaturated fat, such as the Mediterranean diet, according to the Psychiatric Clinics of North America article.
One potential consideration when avoiding saturated fats for weight-loss purposes is the type of saturated fat. Medium-chain triglycerides, such as coconut oil, may actually help people lose more weight than monounsaturated fats, according to a study published in The American Journal of Clinical Nutrition in 2010. This doesn't mean you can eat unlimited amounts, just that it's better to get your saturated fats in the form of medium-chain triglycerides.
Energy-Density Considerations
Foods high in fat tend to be high in energy density, or calories per gram, which means you can't eat as much of them. Trading some foods high in fat for those lower in fat can decrease the energy density of a meal, allowing you to eat a greater volume of food and fill up a bit more without going over your daily calories. Eat foods lower in energy density, such as broth-based soup or a salad, at the beginning of your meal to help you eat less of higher-energy-density foods later in the meal while still feeling satisfied. A study published in The American Journal of Clinical Nutrition in 2005 found that people on a diet who concentrated on eating more foods that were low in energy density were more successful in losing weight than those who tried to eat smaller portion sizes and reduce their fat consumption.
Choosing Healthy Foods
It's best to limit fat by choosing foods that are naturally low in fat, rather than eating lots of processed foods that are labeled fat-free or low-fat. To make these foods lower in fat, manufacturers often add extra sugar to maintain the flavor of the food. This means fat-free and low-fat foods may actually have a similar amount of calories as the regular versions of these foods.
Choosing the right foods will help you get the recommended amount of each type of fat. For example, a 3-ounce serving of cooked wild Atlantic salmon provides all the omega-3 fats you need for the day -- 2 grams. It also contains 2 grams of monounsaturated fat and 1 gram of saturated fat. On the other hand, if you choose a double cheeseburger, you'll be using up 35 grams of your daily fat allotment, including almost 13 grams of saturated fat and 13 grams of monounsaturated fat. Depending on how many grams of fat you need per day on your weight loss plan, that could be most of your fat intake.