If you want all of the modern conveniences offered by a gym but prefer to train at home and have the space to spare, a multi-gym could be for you. Most multi-gyms are made from several different weight machines joined together. Many have dual functions, allowing you to perform numerous exercises on just one piece of equipment. Consider your goals, experience and workout schedule when planning your multi-gym workout.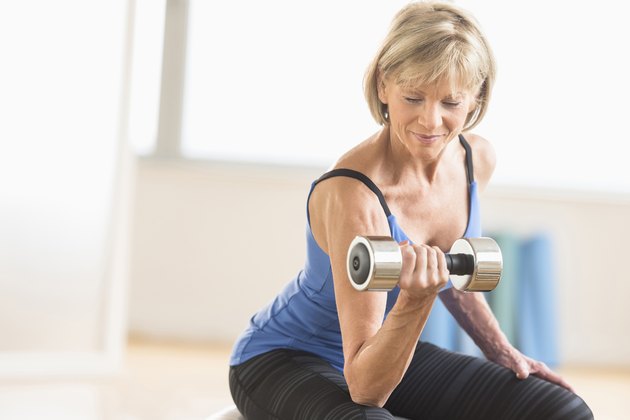 Who the Multi-Gym is For
While free-weights are often considered the best form of training for building muscle, beginners may benefit from fixed-weight machines, according to trainer and bodybuilder Lee Hayward. Machines are easier to use, require less balance and coordination, and carry a lower risk of injury for someone starting out. When choosing your multi-gym, look for one that has at least one exercise for every major body part -- your legs, chest, shoulders, back and arms.
Total-Body Blast
When working with free-weights, it's easier to split your workouts up by body part, as you have a wider variety of exercises to choose from. With a multi-gym, however, you're limited in exercise selection, which makes full-body training a better option. The Fitness magazine website suggests seven basic moves -- chest presses, assisted chin-ups, leg presses, leg curls, biceps curls, triceps extensions and lateral raises. Most multi-gyms will have all of these, but if not, work in a substitute exercise such as shoulder presses instead of lateral raises or machine rows instead of chin-ups.
Make the Most of Your Time
For a twist on a basic multi-gym workout, trainer Joe Wuebben of Muscle and Fitness recommends a timed circuit. You'll pick six exercises and perform each for five minutes, getting a maximum number of reps but resting as needed. Perform chest presses, leg presses, lat pull-downs or seated rows, cable pushdowns, machine preacher curls and machine lateral raises.
The Details
If you're new to weight training, hire a trainer to help you learn the techniques required for performing multi-gym exercises. Additionally, if you're using a home multi-gym, make sure it's installed and set up correctly before you use it. The way multi-gyms are designed allows you to make small weight increments, so aim to lift a bit heavier or increase your reps on every exercise in each workout.