All types of alcohol have calories, but some provide more calories than others. Compared to beer, cider and wine, there aren't that many calories in a shot of vodka — which makes it appealing to those who are dieting.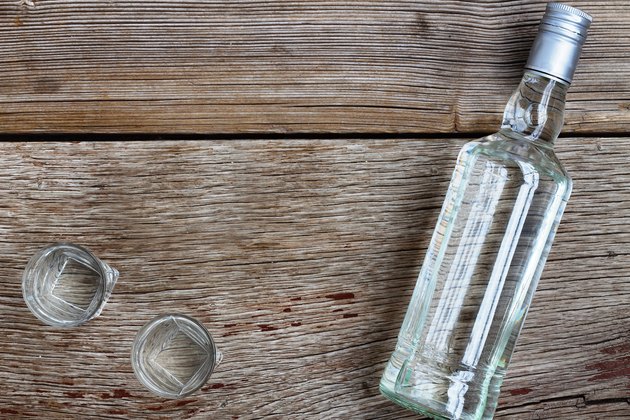 However, this doesn't mean vodka is healthy. Several health issues can arise from drinking alcohol.
Tip
According to the U.S. Department of Agriculture (USDA), there are 97 calories in a shot (1.5 fluid ounces) of 80-proof vodka.
Vodka Nutrition Facts
A shot of vodka is different from beer and wine because of its alcohol content. Hard liquors like vodka are produced through the distillation of grains, fruits or vegetables that have already been fermented. The fermentation and distillation processes yield a higher alcohol content. Beer, wine and cider go through the fermentation process but are not distilled, so they have relatively low alcohol levels by volume content.
The Dietary Guidelines for Americans define a glass of alcohol as 12 ounces of regular beer, 5 ounces of wine, and 1.5 ounces of liquor. Alcoholic beverages contain calories from the alcohol itself and other ingredients, such as sugar.
Role of Alcohol in Obesity
Alcohol and obesity are more related than you may think, according to the Boston University School of Medicine. Both alcoholism and obesity are characterized by periods of loss of control. Furthermore, drinking promotes weight gain.
If you check vodka nutrition facts, you'll see that the number of calories is significantly lower compared to that in other beverages. However, when you mix vodka into cocktails with added sugars, the caloric number becomes quite high. According to the USDA, there are 103 calories in one fluid ounce of a mixed drink. Additionally, drinking alcohol often increases your appetite, which can lead to overeating and weight gain.
A January 2015 study published in Current Obesity Reports points out that alcohol consumption may result in weight gain if the calories in the beverages consumed are not offset by physical activity. While the study states that drinking in moderation when paired with a healthy lifestyle likely will not contribute to weight gain, excessive drinking or drinking without also having an active lifestyle most likely will cause you to pack on pounds.
Risks of Alcohol Consumption