Burgers are a quintessential American favorite. One way to enjoy a burger meal in a fast-food restaurant without breaking the calorie bank is to order a regular burger, a small portion of fries and a diet drink.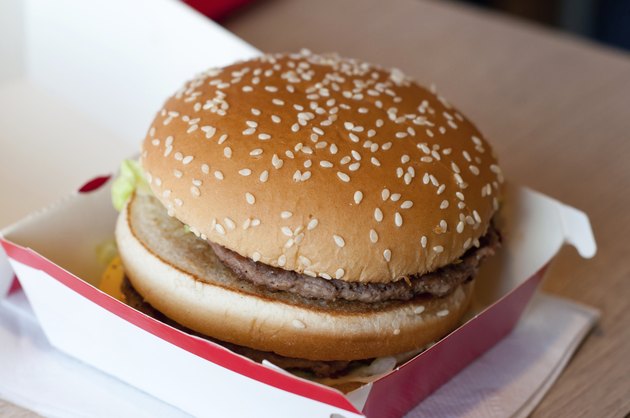 Hamburger
An average plain regular hamburger has 254 calories. It also has 10 g of fat, 29 g of carbohydrates and 13 g of protein, according to the USDA National Nutrient Database. One tbsp. of mayonnaise adds 100 calories, one tbsp. of mustard adds 15 calories, and vegetables add about 20 calories. This adds up to 499 total calories.
Small Fries and Diet Coke
A 3-oz. serving of French fries contains approximately 230 calories, and a diet coke contains zero calories.
Considerations
Together, the burger, fries and drink add up to 629 calories. Compare this with a meal containing a large cheeseburger with condiments and vegetables, a large fry and a regular soda, which has a calorie total of 1,190.
Recommendations
Merck's online medical reference notes that no more than 30 percent of your total calories should come from fat, and fewer than 10 percent should come from saturated fat. Because they are high in fat calories and saturated fat, burgers and fries should be an occasional indulgence and not part of your regular diet.