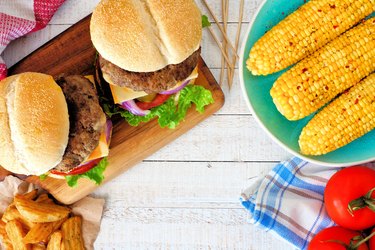 A quintessential American favorite and staple of dates, family dinner outings and quick lunches, the hamburger, small fries and a Diet Coke is one of the top meals in this country. If you keep to the small size, a burger and fries calories won't bust your caloric daily intake.
Tip
A hamburger with a bun, 3 ounces of french fries and a Diet Coke contains 457 calories. The number will go up depending on the condiments you add, such as ketchup, mustard and vegetables.
Burger and Fries Calories
According to the United States Department of Agriculture (USDA), a regular-sized, plain hamburger on a bun contains 327 calories. This includes 18.2 grams of protein, 13.2 grams of total lipid fats, 34.6 grams of carbohydrates and 1.87 grams of fiber.
The USDA says that a small, 3-ounce serving size of french fries contains 130 calories, 2 grams of protein, 4 total lipid fats, 21 grams of carbohydrates and 2 grams of fiber. You'll also get trace amounts of calcium and iron and 6 percent of your recommended daily intake of potassium. However, you'll pick up 280 milligrams of sodium, which is 12 percent of your recommended daily value.
A Diet Coke contains no calories, according the ingredient label. But the USDA lists a diet cola, including Diet Coke, as containing 2 calories, 100 grams of water and trace amounts of total lipid fats, protein, carbohydrates and iron.
This makes 457 to 459 calories total for this fast-food meal, with the breakdown as follows:
Regular hamburger: 327 calories
Small fries: 130 calories
Diet Coke: 2 calories (or zero, according to the label, which would make the total 457 calories)
If you prefer to add condiments, your total caloric intake increases. A plain cheeseburger and fries calories number 506 with a cheeseburger and a bun totaling 376 calories (and the fries adding 130 calories), per the USDA. With the bun, you'll get the following nutrition:
34.2 grams of carbs in cheeseburger
20.1 grams of protein
2.44 grams of fiber
Make a Healthier Hamburger
Although a regular-sized hamburger doesn't present many calories, this entree also doesn't offer much in the way of health benefits. Most of the time you eat a hamburger that was cooked on a griddle at a fast-food restaurant. However, you can make a hamburger healthier by doing the following:
Grilling the meat at home. In a December 2016 review analyzing cooking behaviors and published in Preventive Medicine Reports, researchers found that eating foods cooked at home was linked to a reduced BMI, improved general health and a likelihood of achieving nutrition guideline goals for fat, calcium and fruit and vegetable intake.
Monitor serving size. According to the American Heart Association, one portion of meat is 2 to 3 ounces, approximately the size of a deck of cards.
Look for grassfed meat. In a March 2019 article from Frontiers in Nutrition, grassfed beef has improved ratios of omega-6 to omega-3 fatty acids compared to other animal tissues.
Was this article helpful?
Thank you for your feedback!