Sam-E (also spelled SAMe) is a naturally occurring chemical found in the human body that helps regulate mood and energy levels, and also helps manage pain. People with low levels of Sam-E may benefit from taking Sam-E supplements, available over the counter in natural food stores and certain pharmacies. According to the University of Maryland, Sam-E supplements may be a gentle and effective treatment for mild depression, PMS, osteoarthritis and other ailments. However, like most medications, Sam-E does have side effects.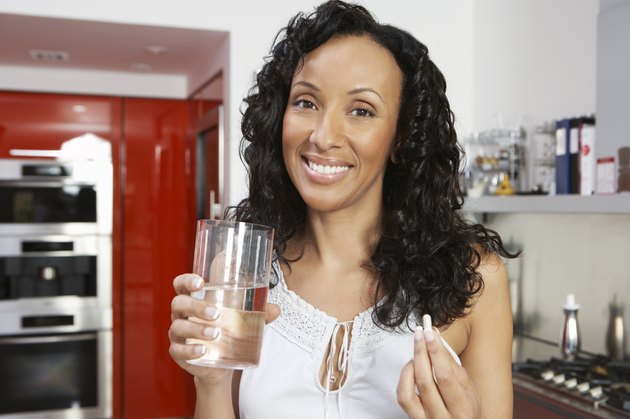 Digestion
Some people may experience mild digestive upset when taking Sam-E, including diarrhea, flatulence, vomiting, constipation and nausea. These symptoms usually only occur at higher doses of Sam-E, and taking a lower dose may bring relief. The digestive upset may also disappear or diminish over time.
Anxiety, Mania and Insomnia
If you have a history of anxiety, mania or hypomania, it is recommended that you avoid using Sam-E unless otherwise directed by your doctor or naturopath. Supplemental Sam-E may lift your mood and provide a boost of energy, which, for people suffering from depression, can be a godsend. However, for people with diagnosed bipolar disorder or anxiety issues, Sam-E may propel them too far in the other direction and make them feel jittery, wired or nervous, and may provoke a manic or hypomanic episode. Even for people with no history of mania or anxiety, Sam-E might prove to be too stimulating and may cause insomnia. Try taking lower doses of Sam-E, or take it earlier in the day.
Allergies
An allergic reaction to Sam-E is rare, but not unheard of. Symptoms of a Sam-E allergy include hives, rash, itchiness, difficulty breathing, and swelling of the mouth or throat. If these symptoms occur, discontinue use of Sam-E immediately, and consult a doctor if you are having trouble breathing, or if the skin issues do not go away.
Levodopa and Parkinson's Disease
People with Parkinson's disease should not take Sam-E since the drug may make the disease worse. You should also avoid combining Sam-E with Levodopa (also known as L-DOPA), a natural supplement sometimes used to treat Parkinson's disease, since Sam-E may cancel out the effects of the Levodopa.
Drug Interactions
As Sam-E changes the level of serotonin in the brain, do not take Sam-E if you are taking any prescription antidepressants, including SSRIs (such as Prozac, Paxil, Zoloft and others) or MAOIs (such as Nardil, Parnate, Moclobemide and others), and avoiding taking it with other herbal remedies, such as Saint John's Wort, unless otherwise directed by your doctor or naturopath. Sam-E may also interact poorly with other drugs that affect serotonin, such as Demerol, Robitussin DM, Talwin, Tramadol and others. Talk to your doctor or naturopath before taking Sam-E to make sure that it's the right supplement for you.