If you're trying to reduce your intake of carbs and think this eliminates yummy snacks, you may be wrong. Many zero-carb foods make good snacks, giving your body a boost when you're feeling hungry and helping you maintain a healthy diet while feeling satisfied between meals. With just a small amount of advance planning, you can enjoy a wide array of zero-carbohydrate snacks.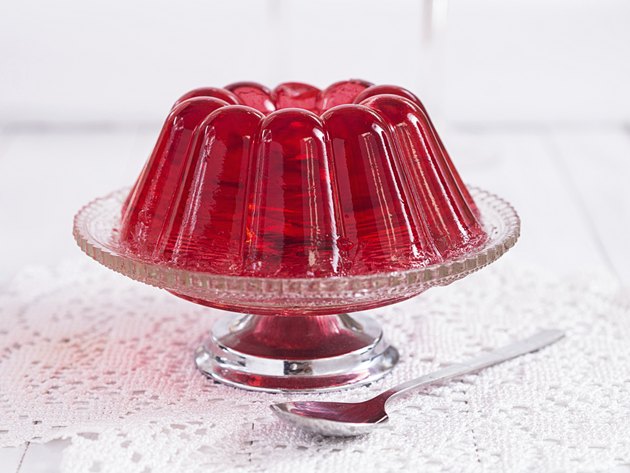 Sugar-Free Gelatin
Sugar-free gelatin contains no carbohydrate and an average of only 10 calories per serving, according to "Basic Nutrition and Diet Therapy." You can make sugar-free gelatin at home, using a mix, or buy it in ready-to-eat in single-serving containers, says "Contemporary Nutrition." Typically, sugar-free gelatin is sweetened with a sugar substitute, such as aspartame or stevia. Sugar-free gelatin makes a convenient snack to pack to work or school, because it does not have to be refrigerated.
Zero-Carb Proteins
Although you might not think of protein-based foods as snacks, some make excellent choices. For example, use some canned, water-packed tuna wrapped in a zero-carb lettuce leaf as a midday snack. Or chop some lean, carb-free ham into a salad mixed with celery or shredded cabbage. Most cheese is also zero- or low-carb, so take some string cheese or another cheese as an on-the-go snack. Pork rinds or beef jerky is also high-protein and usually zero-carb, but be sure to count their fat content into your daily diet plan.
Hard Boiled Egg Whites
Egg whites are lean sources of protein and are free of carbohydrates, according to "Basic Nutrition and Diet Therapy." Hard boil a few eggs and discard their yolks after cooking. The hard-boiled egg whites are zero-carbohydrate snacks that can be easily stored in the refrigerator. They're also easy to grab when you're hurrying out the door, making them an especially good choice for a busy person.