Hummus graces the table at just about every potluck gathering. The creamy blend of chick peas, sesame paste, olive oil, lemon juice, garlic and seasonings pleases crowds when served alongside veggies, pita chips or as a sandwich topping. When you're counting calories to lose weight, you may be concerned that the fat and calorie content of hummus will undermine your goals. Whether you purchase a tub from the supermarket or blend up a batch at home, hummus has a place in any weight-loss plan. You just have to practice portion control and choose the right accompaniments so as not to make this potentially healthy snack into a calorie bomb. Find out more about the nutritional value of hummus by using a calorie counter app.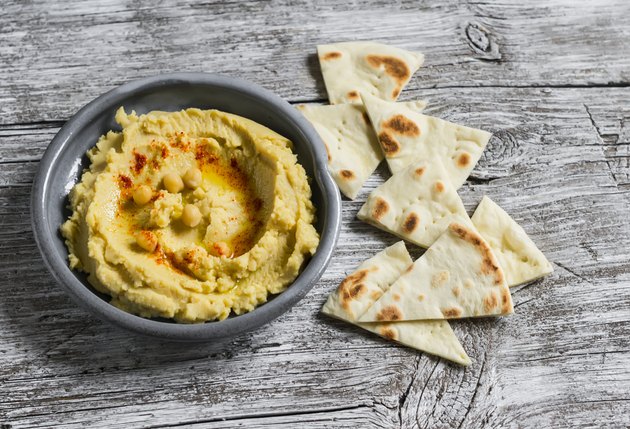 Calorie and Nutrient Value of Hummus
Commercially prepared hummus has about 25 calories per 1-tablespoon serving. With this, you get 1 gram of protein and fiber, 2 grams of carbohydrates and just 1.5 grams of fat. Homemade hummus comes in at about 27 calories per tablespoon, with 1 gram each of protein and fat. Homemade hummus has a higher carbohydrate content, with 3 grams, and, at less than a gram, less fiber too. These amounts are estimates; the actual content of your hummus will vary slightly by brand or by recipe.
The chickpeas in hummus play double-duty as both a protein and vegetable serving. They provide iron and zinc, minerals you usually find in meat or poultry, as well as fiber, folate and potassium, which are common to foods in the vegetable group. Vegans or vegetarians may rely on hummus as a protein alternative to deli meat in sandwiches or a topping for a salad.
Hummus and Satiation
The chickpeas in hummus have satiating qualities that can help curb hunger and cause you to possibly eat less later in the day. A review published in a 2010 issue of Advances in Nutrition reported that pulses, such as chickpeas, have a beneficial effect on weight loss when you are trying to cut calories and increase feelings of fullness. This may be due to the protein and fiber content in the beans, which is also available in hummus. While current research is promising, more needs to be done to make a definitive recommendation on the best ways to include chickpeas in a weight-loss plan.
Portion Control of Hummus for Weight Loss
Like many foods, hummus only undermines your diet if you eat too much of it. A serving is usually just 1 or 2 tablespoons. Most containers hold seven or more of these servings; buy a family-style tub and you may end up with 40 or more servings. If you sit down with a bag of pita chips and chow through a cup or more of the dip, you'll end up consuming 400 calories in dip plus hundreds of calories in chips. This snack will put a hefty dent in any calorie plan.
A few tablespoons of the dip alongside a plate of cut-up veggies benefits your weight-loss efforts, though. Compared to ranch dressing, which boasts 64 calories, 7 grams of fat and no fiber per tablespoon, hummus is a diet winner. The extra veggies have a high fiber and water content that can help fill you up, without adding many calories.
Keep Your Hummus Healthy
Read the ingredient list on any brand of hummus you purchase; some may contain high levels of sodium or even added sugar in the form of high-fructose corn syrup. If you're making hummus at home, up the nutrient content by adding roasted red pepper or steamed beets as it purees. Neither will increase the calorie content significantly, but it will create a dazzling hued hummus with an extra serving of vegetables.
Be wary of hummus that has added pine nuts or drizzled olive oil on top. Although these are sources of healthy unsaturated fat, they are high in calories and may raise the calorie count of the dip. Serve hummus with a side of veggies, such as cucumber, baby carrots and red pepper, for dipping instead of higher-calorie, lower-nutrient chips.Even if you choose baked chips, the calories add up quickly.