Grabbing a pre-made nutrition bar may seem like an easy way to increase your fiber intake. Since many fiber bars contain added sugar and fillers, it's important to read the labels and choose the least processed option. Some nutrition bars are made with whole ingredients and have little or no sugar.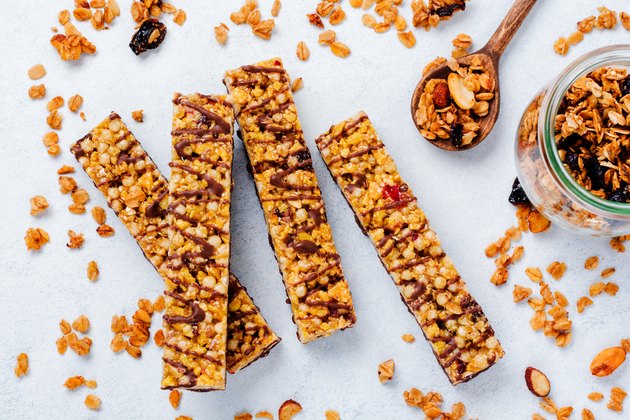 Tips
If you're wondering, "What's the healthiest snack bar?", look for brands that are high in fiber and low in sugar and additives. A good example is Kellogg's Fiber Plus Bar.
Why Eat More Fiber?
Regardless of whether you get fiber from pre-packaged bars or other foods that contain it naturally, this nutrient is an important component of a healthy diet. The Harvard School of Public Health reports that fiber, a carbohydrate that cannot be absorbed by the body, has numerous health benefits.
Diets high in fiber have been linked to a lower risk of heart disease, diabetes and metabolic syndrome. People who consume this nutrient in adequate amounts are less likely to have inflammation in their intestines (a condition called diverticulitis). According to the Harvard School of Public Health also reports, fiber-rich diets may also help lower the incidence of breast cancer.
Finally, fiber consumption may help relieve constipation. Choosing some of the fiber bars listed below or eating foods that naturally contain this nutrient may increase bowel movement frequency and keep you regular. That's because fiber adds bulk to your stool and helps move food through the gastrointestinal tract, leading to better digestive health.
Get Dietary Fiber From Food
While premade bars, such as Kellogg's Fiber Plus Bars, can be incorporated into your diet, eating foods that are naturally high in fiber may be the best option. The Mayo Clinic recommends men 50 or younger to consume 38 grams of fiber per day. Those over the age of 51 should aim for about 30 grams a day.
If you're a woman 50 or younger, try to get approximately 25 grams of fiber daily. Those older than 51 years of age should consume about 21 grams of this nutrient daily.
The Mayo Clinic suggests eating a diet high in fruits and vegetables to meet your fiber requirements. Beans, peas, legumes, nuts and seeds are also good options. Whole-grain products like rye bread, whole pasta or unrefined cereals can offer large amounts of this valuable nutrient too.
Fiber bars, fiber-fortified foods and other dietary supplements are widely available in most grocery stores. These products don't offer the variety of fibers, vitamins and minerals that whole foods do. Because of this, they should not be your primary source of the nutrient.
What's the Healthiest Snack Bar?
With so many types and brands of fiber bars available, many consumers are wondering "What's the healthiest snack bar?" In general, it's a good idea to choose brands with little to no sugar. A review published in the March 2014 edition of the Journal of Renal Nutrition provides some helpful suggestions.
Kellogg's Fiber Plus bars are a good option as they contain 7 to 9 grams of fiber per serving and are relatively low in calories and sugar. Other bars, such as the Atkins Chocolate Oatmeal Day Break Fiber Bar and the Oats & Chocolate flavored Fiber One Chewy Bars, are high in fiber and low in sugar too, so they can be incorporated into a balanced diet.
An alternative to the Kellogg's Fiber Plus bar and other similar snacks is to make your own nutrition bars. Using this recipe and common ingredients like bananas, rolled oats, walnuts and vanilla extract, you can prepare delicious, healthy fiber bars at home. Add raisins, chopped almonds, sunflower seeds, oat bran or dried cherries to the mix to boost their fiber content and nutritional value. Just remember to skip the sugar.