B-50 complex vitamins contain different B-vitamins. Depending on the particular complex they generally are composed of 50 mcg or 50 mg of B-1, B-2, B-3, B-5, B-6, B-7, B-9 and B-12, according to the American Cancer Society, or ACS. The roles of the B vitamins in the body are varied, and deficiencies can cause serious problems. However, high doses can also be detrimental.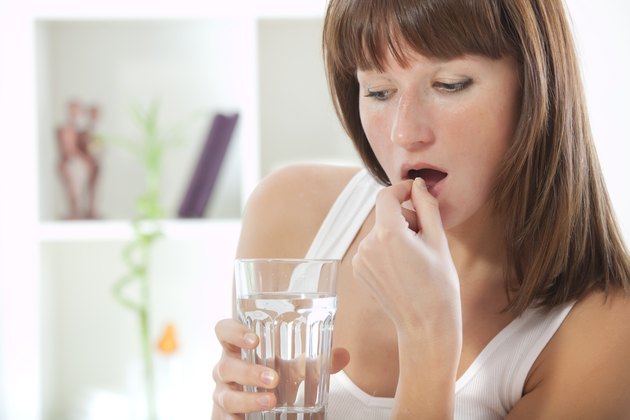 Vitamins B-1 and B-2
Vitamin B-1, or thiamine, and vitamin B-2, or riboflavin, help the body make energy. Each also helps with enzyme metabolism to affect muscles, nerves and the heart, the ACS says. According to Accu-Cell Nutrition, vitamin B-1 side effects include heart palpitations, agitation, insomnia, hypertension and skin eruptions. Vitamin B-2 side effects include nausea, vomiting, fatigue, anemia and hypotension.
Vitamins B-3 and B-4
The primary roles of vitamins B-3 and B-4, or niacin and niacinamide, respectively, are in energy production within cells. They are important for maintaining good health of the skin, digestive and nervous systems. Side effects of these vitamins can manifest as nausea, vomiting, headaches, hyperglycemia, elevated uric acid, jaundice, sweating and rashes, according to Accu-Cell Nutrition.
Vitamins B-5 and B-6
Vitamin B-5, or pantothenic acid, helps the body with growth and development, and can help fight anemia. Side effects of vitamin B-5 can include edema, fatigue, joint pain, gastrointestinal problems, increased triglycerides, calcification, depression and dehydration, Accu-Cell Nutrition reports.
Vitamin B-6, or pyridoxine, helps with protein metabolism, maintains the health of red blood cells and has several roles in maintaining the nervous and immune systems. It also helps with making the neurotransmitters serotonin, norepinephrine and dopamine. Side effects of vitamin B-6 include numbness in the hands or feet, depression, suicidal tendencies, mood swings, headaches, fatigue, hypoglycemia, thyroid problems and spinal or nerve degeneration, according to Accu-Cell Nutrition.
Vitamins B-7 and B-9
The ACS says vitamin B-7, or biotin, helps to break down carbohydrates and proteins and also helps make hormones. Side effects include skin disorders, brittle nails, hair loss, anemia, depression and fatigue.
Vitamin B-9, or folic acid, is important for synthesizing DNA and for making red blood cells. Vitamin B-9 side effects can include kidney problems, abdominal bloating, nausea, loss of appetite and increased cholesterol, and it can mask anemia caused by vitamin B-12 deficiency, Accu-Cell Nutrition says.
Vitamin B-12
Vitamin B-12, or methylcobalamin, has long been studied for its relationship to Alzheimer's disease, dementia and general cognitive decline, the National Institutes of Health says. Deficiency may be related to memory problems and psychosis. Side effects of vitamin B-12 include primarily neurological manifestations such as numbness or tingling in the right arm or right side of the face, anxiety attacks and heart palpitations. Other side effects are anemia related to excessive folic acid, thyroid and optic nerve problems.