Dextromethorphan is found in many over-the-counter cough medications. It acts to helps suppress the urge to cough. Despite its general safety, dextromethorphan can have some side effects, which are usually mild. While not addictive, ingestion of large amounts of dextromethorphan can lead to dangerous and potentially life-threatening toxicity. Take dextromethorphan only as directed and discuss any side effects with your doctor.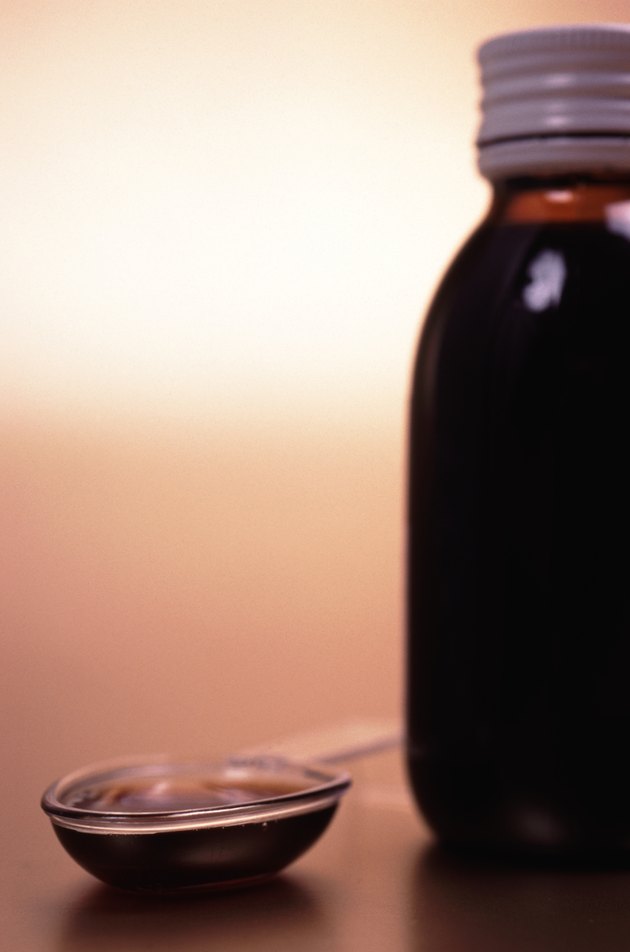 Nervous System Effects
In addition to reducing your urge to cough, dextromethorphan can affect your nervous system. Dextromethorphan can make you feel drowsy. However, dextromethorphan can make some people feel restless and excitable. Dizziness and lightheadedness may also occur.
Many nervous system symptoms may develop with a dextromethorphan overdose, including confusion, slurred speech, poor coordination and balance, hallucinations, and extreme sleepiness.
Effect on Eyes
The pupils of the eyes naturally expand in response to dim light and constrict in bright light. Dextromethorphan and other drugs can also affect pupil size. In general, dextromethorphan causes pupils to stay constricted, much like narcotics. (See Reference 1) However, some people's pupils will expand after taking dextromethorphan. Dextromethorphan can also cause your eyes to move back and forth involuntarily, which is called nystagmus. (See Reference 2)
Other Effect
High doses of dextromethorphan can also cause increased sweating. People taking dextromethorphan may also develop high blood pressure. (See Reference 2)
Abuse
Because dextromethorphan can affect your nervous system, some people use it as a recreational drug. According to an article in a 2004 issue of "Pediatric Emergency Care," there are four stages of dextromethorphan intoxication. The first, which occurs with doses between 100 and 200 mg, causes mild stimulation of the brain and body. The second stage can be achieved with doses between 200 and 400 mg and is described as being similar to drinking alcohol and smoking marijuana at the same time. Doses of 300 to 600 mg can cause an "out-of-body" feeling, and doses higher than this can cause hallucinations and altered perceptions, similar to taking the drug ketamine. (See Reference 3)