Natural toothpastes and Arm & Hammer toothpastes differ in their ingredients, but both will clean your teeth. Arm & Hammer products contain the sweeteners saccharin or sorbitol, as well as foaming agents that can cause mouth sores. Many natural toothpastes do not contain these ingredients. Natural toothpastes also are typically less abrasive than Arm & Hammer products; this is a concern because overly harsh toothpastes can wear down tooth enamel.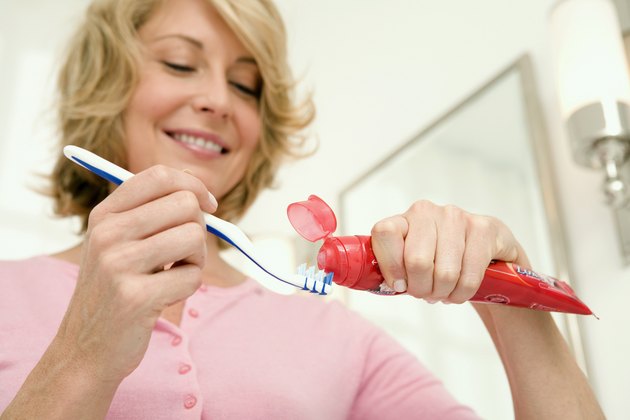 Natural Toothpaste
Natural toothpaste is a generic term applied to toothpaste products that contain natural ingredients. but the term "natural" is not legally defined and not all natural toothpastes are organic. Generally, natural toothpastes do not contain artificial sweeteners, dyes or flavors, but some products do contain sodium lauryl sulfate, a foaming agent that can cause mouth sores. Some natural products contain added fluoride, but this is prominently listed on the label. Some natural toothpastes contain glycerin, which can coat your teeth and prevent them from absorbing minerals.
Arm & Hammer Toothpaste
Church and Dwight Inc. is the manufacturer of the Arm & Hammer brand of toothpaste. The company does not market its products as natural toothpastes, and the products contain ingredients that some people might find objectionable. Two of the toothpaste products listed on the company's website, Advance WhiteR Brilliant SparkleR Gel and PerioxiCareR, contain sodium saccharin, which is under study as a possible carcinogen. The Arm & Hammer Dental Care Whitening Toothpaste and the Arm & Hammer Dental Care Tooth Powder also contain sodium saccharin. Some ingredients in the toothpastes include sorbitol, polyethylene glycol or PEG-8, sodium fluoride, sodium percarbonate, sodium bicarbonate, artificial dyes and silica.
Whitening Toothpastes
Whitening toothpastes contain both a bleaching agent and an abrasive, such as silica. The bleaching agents commonly used are peroxide or sodium tripolyphosphate. The bleaching agents are the same ones used by cosmetic dentists who perform tooth whitening procedures, but the bleaching agents in the toothpastes do not stay in contact with your teeth long enough to do more than remove the surface stains. Whitening toothpastes also use an abrasive, such as silica or baking soda, which scrub the surface of your teeth and get them clean.
The Role of Abrasives
Abrasives are used to remove surface stains from your teeth as you brush. Silica is found in most whitening toothpastes and other whitening products, but other abrasives include hydrated aluminum oxides and calcium carbonate. There is some concern that the abrasive silica found in these toothpastes can be harsh enough to cause damage to cosmetic dental bonding or even erode your tooth enamel. Several of the Arm & Hammer toothpaste products contain sodium bicarbonate instead of silica. Commonly known as baking soda, this ingredient acts as a mild abrasive.
Safety
The American Dental Association's Council on Scientific Affairs reviews toothpastes and other oral care products. Products that meet the association's criteria for safety and effectiveness earn the right to display the ADA seal. One of the variables the ADA tests is the abrasiveness, which is assigned a "Relative Dentin Abrasivity" number. Toothpastes with RDA numbers of 250 or less can gain certification from the ADA, although the FDA recommends an RDA number of 200 or less. Baking soda has an RDA of 7, Arm & Hammer Advance White Gel an RDA of 117, and natural toothpastes like Weleda Calendula and Tom's of Maine Sensitive come in at 45 and 49, respectively.
Is This an Emergency?
If you are experiencing serious medical symptoms, seek emergency treatment immediately.