It's hard to find a more nutrient-dense meal than a vegetable stir-fry. The veggies are so low in calories that even if you like to serve them over rice -- which can double or triple the total calories -- you'll still have a meal that fits into a weight-loss plan. A stir-fry also stores well in the fridge in an airtight container, so make a batch large enough to have leftovers.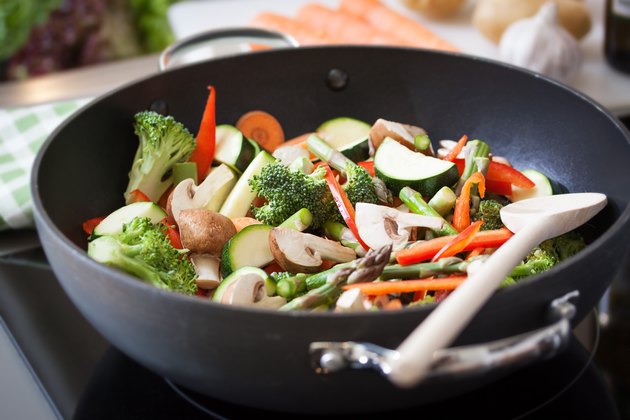 Calories in Vegetables
Most cooked veggies have 10 to 35 calories in a 1/2-cup serving. Celery and sweet peppers are on the low end, with about 14 calories in 1/2 cup of cooked celery and 19 calories for sweet peppers. At the higher end, snap peas have 34 calories and bean sprouts supply 31 calories in 1/2 cup. Put all of them in a stir-fry and you'll end up with an average of 25 calories in a 1/2-cup serving that includes a mix of all four.
Stir-Fry Served Over Rice
A veggie stir-fry can stand on its own, but it's often served over rice, which may quadruple the calorie count. You'll get 205 calories from 1 cup of cooked white rice and 216 calories from brown rice. You can use other grains, such as quinoa, but it's in the same calorie range, with 222 calories per cup. After adding a cup of grains to your veggies, a serving of vegetable stir-fry now has 255 to 272 calories. Including whole grains also adds about 40 grams of carbohydrate, which is great for energy but may be too high if you're on a low-carb diet.
You can keep calories down by using cauliflower rice in place of grains. Pulse cauliflower florets in a food processor until they resemble small granules, then cook the ricelike pieces until they soften, either in the microwave or on the stovetop with a little olive oil. One cup of chopped cauliflower has 27 calories. A measuring cup holds more of the small ricelike pieces than chopped chunks, which means cauliflower rice has more calories, but it won't exceed 50 calories in a 1-cup serving.
Calories From Seasonings
Veggie stir-fries are flavored with various combinations of chicken broth, soy sauce, teriyaki sauce, sesame oil, garlic and ginger, with cornstarch added as a thickener. The calories you'll get from these supporting ingredients vary, but they won't kill your calorie budget. A typical serving includes about 1/4 cup of broth and 1 teaspoon of soy sauce, which each have 4 calories. One teaspoon of sesame oil contains 40 calories. Each stir-fry portion ends up with about 48 additional calories from flavorings, which brings your meal to 285 calories when the veggies are served over brown rice. You'll also gain extra calories from oil put in the pan for cooking, so use the smallest possible amount.
Boost Protein but Watch Calories
You can boost the protein of your veggie stir-fry by adding beef, chicken, pork, shrimp and tofu. For a stir-fry serving that contains 1 ounce of chicken, you'll add 54 calories, while 1-ounce servings of lean beef and pork have 58 and 71 calories, respectively. You'll only get 34 calories per ounce of shrimp and 20 calories in an ounce of tofu. Many recipes call for enough chicken or beef to net 3 ounces per serving, so you could end up with significantly more calories.