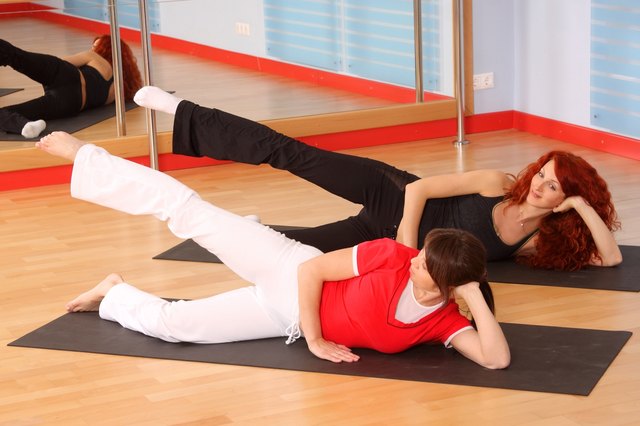 Prenatal exercise is important to keep you and your baby healthy. Toning and strengthening exercises can prepare your body for labor, as well as help your body bounce back faster postpartum. Many traditional butt-toning exercises performed on the floor are not recommended for prenatal women, especially after the first trimester. The good news is there are many safe alternatives that are just as effective at targeting your glutes. Consult your OB before beginning any prenatal workout plan.
Safety First
The American College of Obstetrics and Gynecology recommends that healthy pregnant women continue an already-established exercise regimen, with a few exceptions. After the first trimester, pregnant women should avoid lying flat on their back. This position can cause restricted blood flow, which is dangerous for you and your baby. During pregnancy, a hormone called relaxin is responsible for making your joints loser to accommodate your growing baby, which can throw off your balance.
Booty-Burning Cardio
The best way to tone your booty is to participate in regular cardiovascular exercise. The American Congress of Obstetricians and Gynecologists recommends that pregnant women get at least 30 minutes of moderate-intensity exercise on most days. The American Pregnancy Association recommends swimming as one of the most effective and safest cardiovascular exercises for pregnant women. It is very unlikely that you will experience overheating or falling while swimming -- two major concerns for pregnant women. Swimming is also a great way to work your glutes. Kicking your legs and even treading water will give your butt a workout. If you are not interested in swimming, walking, prenatal aerobic classes, bicycling and dance are effective alternatives that can be safe for pregnant women under the supervision of their doctor.
Squats Work
Fitness enthusiasts know that squats are on every top-ten list of best butt-toning exercises. Pregnancy may give you some extra incentive to do your squats. According to "Fit Pregnancy," the squat position during labor may encourage your baby to descend faster, with the help of gravity. Squatting can also increase the rotation of the baby and provide excellent fetal circulation. If you haven't been doing squats, you can start by using a chair for assistance. Holding the back of a sturdy chair, lower your bottom like you are going to sit on a chair. Stop at the midway point between the starting position and the floor and hold this pose for 10 seconds. Slowly return to starting position and repeat for two sets of 10. Aim to increase your hold time to 30 to 60 seconds as your lower body becomes stronger.
Prenatal Plies
Plies are an effective butt exercise that is safe for you to do well into your third trimester. If you are getting into your third trimester or just want some extra support for your back, you can do plies using a medium stability ball. Place the ball between your lower back and the wall. Step forward a few inches and turn your toes out. Lower your bottom straight down and come back up to starting position. Be sure to breathe throughout the exercise, inhaling as you plie down and exhale as come up. Do three sets of 10 repetitions for maximum results.