Hot dogs are a classic American treat, but they can be high in fat and sodium. If you're watching your weight, be careful to limit your hot dog intake.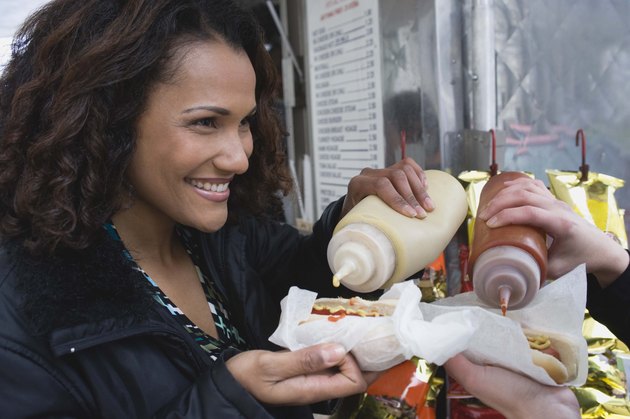 Calories
A standard 57 gram beef hot dog, typically sold in a package of eight, contains 188 calories, while a 1-ounce bun has 84 calories, adding up to 272 calories.
Toppings
Many people like to top their hot dogs with classic condiments that can add additional calories. One tablespoon of ketchup has 16 calories, 1 tablespoon of sweet relish has 21 calories, 1 tablespoon. of yellow mustard has 11 calories and 1 tablespoon of brown mustard has 14 calories.
Alternatives
To cut the calorie content of a hot dog and bun, try a turkey hot dog, with 127 calories per 57 grams; a low-fat beef hot dog at 131 calories; or a fat-free beef, pork and turkey hot dog with 62 calories.