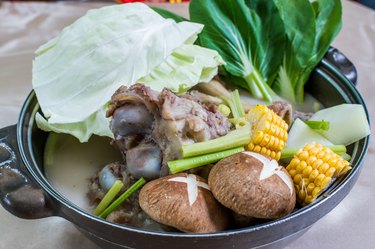 You can find a healthful meal at a Chinese restaurant if you're counting calories and carbohydrates, but you'll need to choose carefully. Read descriptions carefully and watch out for sauces, breading, noodles and rice.
Nutrition
The calories and carbohydrates in Chinese food vary. P.F. Chang's chicken and broccoli contains 660 calories and 45 g of carbohydrates, according to CalorieKing. A 5-oz. serving of General Tso's chicken contains 319 calories and 23 g of carbohydrates. Kung Pao chicken has 240 calories and 12 g of carbohydrates in a 5.5 oz. serving.
Food to Avoid
Avoid rice, noodles, breaded meats, wontons and egg rolls if you're counting carbohydrates. Oyster sauce, plum sauce, sweet and sour sauce and duck sauce are often high in sugar. Thick sauces are often thickened with cornstarch.
Tips
Choose clear, thin soups and steamed or stir-fried foods. Look for meals that feature vegetables, recommends the Center for Science in the Public Interest. Use the chopsticks to keep from consuming too much sauce. Share your entree or ask for a box and take some of your food home.