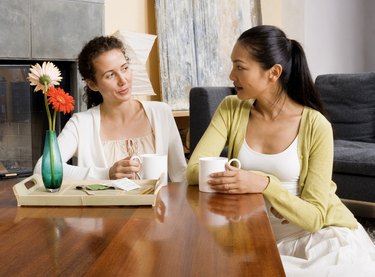 With the McDonald's guarantee of a fresh pot every 30 minutes, you are sure to get a piping hot cup of coffee that hasn't been sitting around all morning. Made with 100 percent pure Arabica coffee beans, McDonalds's medium roast coffee has been coming from the same master blender for 25 years. Gavina, based in Southern California, is the heart and soul of every cup, from the house blend, to all of the McCafe blended coffee drinks.
Serving Size
A small, McDonald's house coffee equals 12 fluid ounces. A coffee creamer equals 0.4 fluid ounces and one packet of sugar equals 4.0 grams. A premium roast iced coffee equals 11.5 fluid ounces or 85 grams.
Calories, Fat, Cholesterol and Sodium
A small house coffee has no calories, fat, cholesterol or sodium. A single creamer has 20 calories, 2 grams of fat, 10 milligrams of cholesterol and 3 milligrams of sodium. A packet of real sugar has 15 calories. An iced coffee has 190 calories with 70 calories from fat with a total fat content of 8 grams with 5 grams of saturated fat, 30 milligrams of cholesterol and 60 milligrams of sodium. The added calories, fat, cholesterol and sodium come from the added light cream and vanilla syrup.
Carbohydrates and Protein
A cup of McDonald's house coffee has no carbohydrates or protein. One creamer has no carbohydrates or protein. One 11.5 fluid ounce iced coffee has 29 carbohydrates, no dietary fiber, 28 grams of sugars and 2 grams of protein.
Recommended Percent Daily Value
A cup of house coffee has no nutritional value. A single creamer provides 2 percent daily value of vitamin A and calcium. One serving of iced coffee provides 26 percent saturated fat, 13 percent daily value of total fat, 11 percent cholesterol, 10 percent carbohydrates, 6 percent daily value of vitamin A and calcium and 3 percent sodium.
Caffeine
If you have ever wondered how much caffeine is actually in that cup of coffee you drink each day, here is a short list. According to the Center For Science in the Public Interest, an 8 ounce cup of generic coffee can have between 75 milligrams to 200 milligrams of caffeine; 8 ounces of decaffeinated has 2 milligrams to 12 milligrams of caffeine, a 16 ounce Starbucks Vanilla Latte has150 milligrams of caffeine while a small, 2 ounce Starbucks Espresso has 150 milligrams of caffeine.