Bibimbap is a signature dish of Korean cuisine. Its main component is a bowl of white rice, which is adorned with a variety of seasoned vegetables and a spicy sauce. Bibimbap may come with beef, chicken, seafood, tofu or an egg, but pairing only veggies with the rice keeps the dish's calorie count total relatively low.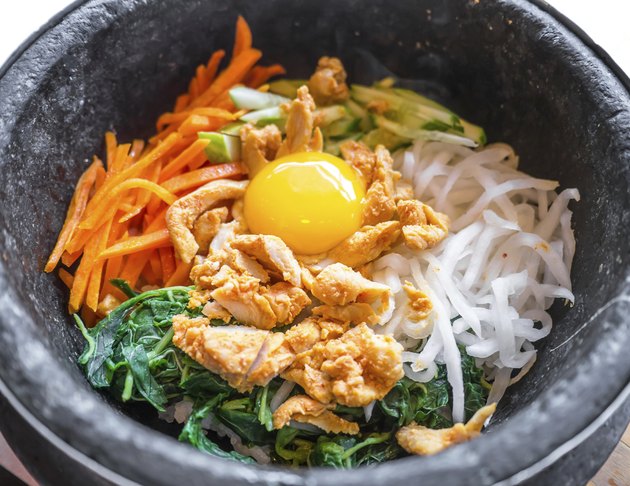 Calorie Counts
The vegetables and other ingredients used in bibimbap help determine how many calories it has per serving, and you can easily track this using an online calorie counter. A homemade version that uses spinach, bell pepper, garlic, avocado and eggs in combination with oil, salt, soy sauce and sriracha has 530 calories in a single serving. A version prepared with rice wine, oil, soy sauce and vinegar as a marinade, tofu instead of eggs and cucumbers, carrots, spinach and mushrooms as the veggies has about 320 calories in a single serving.
Serving Size
If you order vegetable bibimbap at a restaurant, keep in mind that a serving size is not always the same as a portion size. The portion of bibimbap you get may contain multiple servings of the dish, which will make the total calorie count much higher.