The Cabbage Soup Diet claims to help you jumpstart weight loss. It consists of a week of eating cabbage soup along with other suggested foods each day of the week. Along with your cabbage soup each day, you can have fruit on the first day, vegetables on the second, fruit and vegetables on the third, bananas with skim milk on the fourth, beef or chicken with tomatoes on the fifth, beef and vegetables on the sixth and brown rice and vegetables on the seventh day, according to the Cabbage Soup Diet website. You are not meant to be on the diet for longer than seven days, after which you switch to a long-term diet of your choice. The cabbage soup recommended for this diet is easy to make with a slow cooker.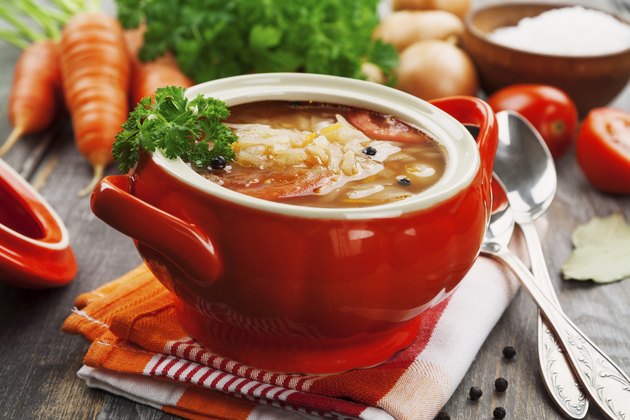 Step 1
Cut the tops off the peppers with a knife and scoop out the seeds with a spoon. Discard these items.
Step 2
Chop all the vegetables into small pieces using a knife.
Step 3
Put all the ingredients into your slow cooker.
Step 4
Pour water over vegetables until they are covered.
Step 5
Add 1 tsp. salt, 1/2 tsp. pepper and 1/2 to 1 tsp. each of other spices that you enjoy. Some options include parsley, oregano, basil and garlic powder. If you want your soup to have a spicy flavor, add cayenne pepper or curry spice.
Step 6
Cook in your slow cooker on the High setting for 4 to 5 hours, or on the Low setting for 8 to 9 hours.
Things You'll Need
2 green peppers

6 large green onions

3 carrots

1 can diced tomatoes

1 container mushrooms

1/2 head cabbage

1 package celery

1 package onion soup mix

Knife

Spoon
Tip
Take a multivitamin while on this diet so you obtain necessary nutrients.
Warning
This diet could be considered a type of fasting. The Weight-control Information Network warns that if you consume fewer than 800 calories each day, you could have heartbeat inconsistencies and not obtain enough nutrients or calories to fuel your body. Also, fasting usually leads to gaining the weight back instead of keeping it off. Consult with your doctor before starting a new diet plan.