Many staple foods of the Indian diet are high glycemic, and like other Americans, Indian Americans are at risk of type 2 diabetes. In fact, Asian Indians in the United States are at a higher risk of type 2 diabetes than Caucasians, according to the American Association of Physicians of Indian Origin.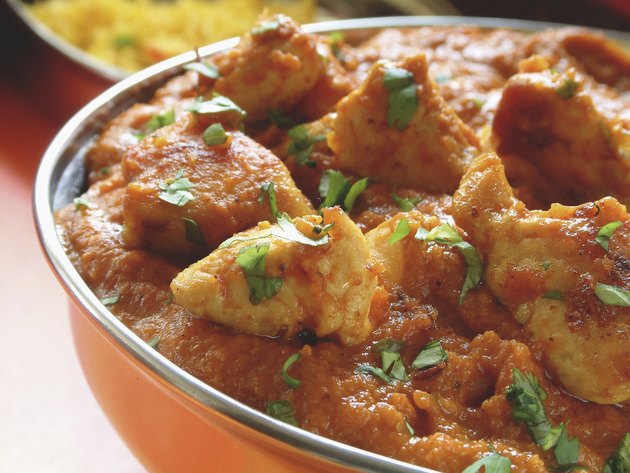 Following a low-glycemic diet helps control your blood sugar if you have diabetes and reduces your risk of getting it if you don't have it. The glycemic index is a measure of how rapidly a carbohydrate food increases your blood sugar. Low-glycemic foods have a GI of 55 or below.
Beans and Legumes
Pulses are rich in fiber and a staple in Indian cuisine. Chickpeas, kidney beans, mung beans, lentils and black-eyed peas are particularly common in Indian dishes. The glycemic index of these legumes is between 29 and 33, making them a good choice.
Continue enjoying traditional dishes such as chana masala -- a chickpea dish -- and red kidney bean curry. Diets rich in fiber reduce the risk of type 2 diabetes. Legumes are rich in soluble fiber, a type of fiber that dissolves in water and slows the absorption of sugar and helps lower cholesterol.
Cereal Grains
Grains are a big part of Indian cuisine, from flatbreads like naan to rice as a side dish. Traditional Indian meals consist of refined versions of these grains, which are high glycemic. To lower the GI of your diet, you don't have to give these foods up. Instead use whole grains to make your dishes.
For example, instead of white naan bread, select whole-wheat roti, or chapati, which are lower-glycemic flatbreads. Make homemade naan using cracked wheat. Skip the easy-cook basmati rice and opt for slow-cooked or brown basmati rice.
Staple Vegetables
The Indian diet consists of a wide variety of low GI vegetables, along with root veggies, which are high glycemic. Staples like leafy greens, eggplant, green beans, cauliflower, summer squash, zucchini, artichoke, bean sprouts, cucumber and gourd are good low-glycemic options.
But root vegetables like beets, rutabaga and potatoes are high GI. When your dishes call for root vegetables, choose low-glycemic options such as carrots, parsnips and yams, which have a GI of 35 to 54.
Staple Fruits
Fruit is also a big part of a traditional Indian diet, and many of the staples are low GI. Common fruits in Indian dishes include papaya, apricots, grapefruit, mango, kiwi, peaches and pears, which all have a GI level below 60 when prepared fresh. Fruit canned in juices has a significantly higher glycemic index.
Other staple fruits such as cantaloupe and pineapple have a moderate glycemic index of 65 and 66 respectively. While not technically low glycemic, smaller portions of these fruits can fit them into your diet.