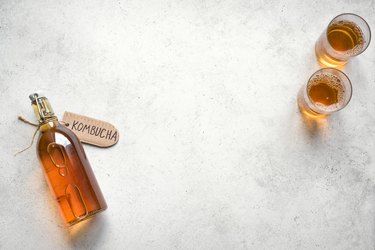 Recent decades have shown an influx in kombucha consumption, as it's believed the fermented tea drink has health benefits. Of the kombucha types is Synergy Kombucha, a line of kombucha teas brewed by the brand GT's.
Tip
Synergy Kombucha is a type of fermented tea — made with black tea, green tea, kiwi juice and assorted juice flavors — created by the beverage company, GT's.
All About Kombucha
Brewed at home for centuries and commercially for the last couple decades, kombucha is a fermented tea drink thought to have curative properties. According to Kombucha Brewers International, it's made by adding bacteria and yeast to a tea and sugar solution.
The mixture then undergoes a fermentation process in which the cultures metabolize the tea and sugar. The result: a carbonated beverage packed with antioxidants, B vitamins, organic acid and just a touch of alcohol. In a second shorter fermentation process, the brewer may add flavorings, such as fruit juice, lemon or ginger.
Kombucha drinkers have claimed to have experienced positive health effects, such as increased energy, better digestion, controlled hunger, an immunity boost, a feeling of overall well-being and a balancing of overall pH. It's no wonder the drink has been dubbed the "elixir of life."
However, the Mayo Clinic points out that these claims are not backed by scientific evidence. Aside from some evidence that the fermented tea drink has a similar effect as probiotic supplements, there's currently very little research on the health benefits of kombucha.
What Is Synergy Kombucha?
Synergy Kombucha is a type of kombucha tea you may have seen at your local health foods store. It's produced by the kombucha brand GT's and made in various flavors: Strawberry Serenity, Mystic Mango and Cherry Chia, among others. As for ingredients, the products contain black tea, green tea, kiwi juice — used as a sugar source for fermentation — and other juices, depending on the flavor.
A bottle of the Synergy drink will also contain several strains of probiotics, says the GT's website. And expect each bottle of 16 fluid ounces to contain from 50 to 150 calories — the chia Synergy drinks tend to be on the more caloric side. On average, Synergy Kombucha contains from 12 to 20 grams of sugar per bottle.
GT's website also claims that GT's Enlightened Synergy Kombucha is good for those who are new to kombucha, as it has a "smoother" taste with 95 percent kombucha and 5 percent juice or fruit puree.
Kombucha and Probiotics
Kombucha is full of probiotics. According to the GT's website, the dominant strains of probiotics in the company's kombucha are Lactobacillus bacterium and Bacillus coagulans GBI-30 6086, as well as other varieties that are naturally occurring. Although there's still much to be discovered about probiotics, there's evidence pointing to its positive effects.
Studies show that probiotics don't have many side effects, though data is limited and those with underlying health conditions may be more at risk of having an adverse reaction to probiotic intake. Those who are considering taking probiotic supplements or significantly increasing their kombucha intake should consult a health care professional.