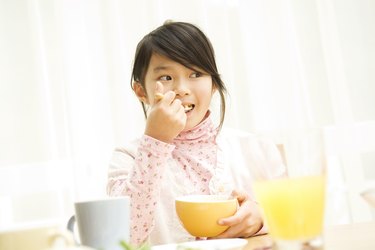 Life Cereal, distributed by Quaker Oats Company, is promoted as a healthy food but may not necessarily belong on a "Best Breakfast" list. According to the Mayo Clinic, a healthy breakfast helps you manage your weight, concentrate better, snack less, reduce your risk of disease, eat fewer unhealthy foods and be more physically active. Making healthy food choices for breakfast and throughout the day can help you to achieve all six.
What to Look For
When choosing a healthy breakfast cereal, turn to the side of the box and read the Nutrition Facts label. According to the Mayo Clinic, a healthy cereal has a minimum of 3 to 5 g of dietary fiber, fewer than 13 g of sugar and fewer than 120 calories per serving. It should also have whole grains as the first ingredient, no cholesterol and low-fat protein.
Carbohydrates and Protein
A single serving of Quaker Life Cereal, which is ¾ cup or 32 g, has 25 g of carbohydrates and 2 g of dietary fiber, providing 8 percent of the daily value for both. This cereal has 6 g of sugars, 17 g of other carbohydrates and 3 g of protein per serving. Going by the Mayo Clinic's guidelines, Life is a little short of the recommended dietary fiber, but it does have fewer than 13 g of sugars.
Calories, Fat, Cholesterol, Sodium and Potassium
One serving of Life cereal has 120 calories, with 15 calories from fat and a total fat content of 1.5 g. It has no saturated or trans fat and 0.5 g of polyunsaturated and monounsaturated fat. This cereal has no cholesterol, 160 mg of sodium and 90 mg of potassium. The type of fat you eat is crucial to reducing the risk of heart disease. Your diet should consist of small amounts of polyunsaturated and monounsaturated fats only. Saturated and trans fats increase blood lipid levels, which increase the risk of heart disease.
Vitamins and Minerals
As is the case with most breakfast cereals, Quaker Life is vitamin- and mineral-fortified. This cereal provides 4 percent of the daily value of vitamin A, 10 percent of calcium and phosphorus, 25 percent of thiamin, riboflavin, niacin, vitamin B6 and zinc, 45 percent of iron and 60 percent of folic acid. According to the Dietary Guidelines for Americans 2005, distributed by the U.S. Department of Health and Human Services, a healthy breakfast contains most of the essential vitamins and minerals necessary for a healthy diet.
Ingredients
Quaker Life cereal contains whole grain oat flour, sugar, corn flour, whole wheat flour, rice flour, salt, calcium carbonate, disodium phosphate, reduced iron, niacinamide, zinc oxide, BHT-a preservative added to packaging to maintain freshness, yellow 5, yellow 6, thiamin mononitrate, pyridoxine hydrochloride, riboflavin and folic acid. Niacinamide, thiamin mononitrate, pyridoxine hydrochloride, riboflavin and folic acid are all B vitamins. When determining whether a cereal is healthy, keep in mind where sugar falls in the list of ingredients and the number and type of additives. Low to no sugar and no artificial colors, flavors or additives makes a healthy cereal.