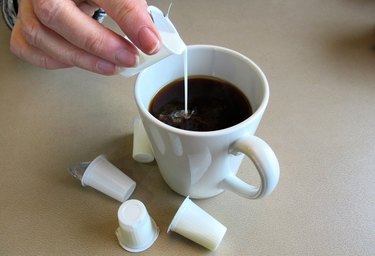 A steaming hot cup of coffee is an early-morning treat that you can enjoy on nearly any diet. However, what you put in that "cup of joe" can ramp up your calorie count for the day. It's easy to count coffee creamer calories with individual creamers made by Coffee-mate.
Tip
Individual creamers made by Coffee-mate have 1 to 2 calories per milliliter — 10 to 25 calories in each creamer cup — depending upon which flavor you buy.
Choose Your Coffee-mate
Coffee-mate offers a bevy of decadent flavors in its full-size liquid creamer line, ranging from Dove Dark Chocolate Almond to Creme Brulee. The selection also includes sugar-free and fat-free formulations, as well as seasonal offerings, such as pumpkin spice and peppermint mocha, to make your brew special.
The full-sized liquid whitener comes in 32-ounce bottles with a suggested serving size of 15 milliliters — approximately three teaspoons. By contrast, the individual containers serve up just 11 milliliters of creamer each. That's nearly 3/4 of a teaspoon less than the serving size listed for the full-sized bottles.
However, individual servings are available for only three varieties. The Original Coffee-mate flavor has the fewest calories of the three, with 10 calories in the 11 milliliters of liquid in the single-serving container. The other two flavors, French Vanilla and Hazelnut, deliver 25 calories each.
Original or Flavor?
A single-serving container of Coffee-mate's Original Flavor creamer is the best choice if you're concerned with having as few calories in your coffee cup as possible. At just 10 calories per cup, Original Flavor is as low-calorie as the company's sugar-free flavors. Coffee-mate's sugar-free offerings still contain corn syrup, which adds a "trivial amount of sugar," according to the company website.
Coffee-Mate Original contains less than 1 gram of sugar — even though the nutritional info lists sugar as one of the first three ingredients — allowing the manufacturer to list zero grams of sugar, even though there is a small amount added to the product. Half-and-half 's creamer calories come in as roughly twice as many as a single-serving of Coffee-Mate Original, according to USDA FoodData Central .
Whereas half-and-half delivers 1.73 grams of fat in a serving, the nondairy creamer has 5 grams of saturated fat from coconut oil, which is responsible for the product's rich, creamy texture. A container of half-and-half has 0.62 grams of sugar in it, from natural lactose.
Coffee-Mate Original has no lactose, and is considered nondairy, although it does contains a milk protein, sodium caseinate, which acts as an emulsifier and thickener. Although this is good news for the lactose-intolerant, the substance can cause allergic reactions in some people with dairy sensitivities, according to Harvard Health Publishing, and makes the product not vegan.
To add a distinctive taste to your cup of brew, add a single-serving tub of Coffee-mate creamer in French Vanilla or Hazelnut flavor. Each of these flavors contains 3 grams of added sugar, making it the second-most plentiful ingredient, after water. The added sugar brings each individual serving up to the 25 calories per creamer cup.
Like the original flavored creamer, both French Vanilla and Hazelnut contain coconut oil for a creamy consistency. However, each flavored tub has 8 grams of saturated fat.