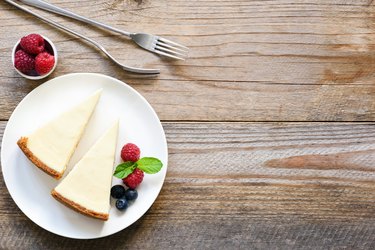 It's hard to go to the Cheesecake Factory and not get cheesecake. So, if you're counting carbs, you'll be happy to learn about the Cheesecake Factory low-carb cheesecake — so dieters can still enjoy what is otherwise the most off-limits of all decadent desserts.
But, with 600 calories per slice, eating an entire slice of even this "safer" sweet treat may be a difficult fit for a calorie counter.
Cheesecake Factory Low-Carb Cheesecake
The Cheesecake Factory offers two low-carb options — with fresh strawberries or without. The plain low-carb cheesecake has 600 calories; the one with strawberries has 610. Compared to other cheesecake options on the menu, these two are the lowest in calories and may be the way to go if you're counting calories instead of carbs.
However, even these options may cost you. If you're following a reduced-calorie diet for weight loss — say, 1,200 to 1,800 calories a day — one of these slices eats up 30 to 50 percent of your daily calorie allowance. A calorie counter app can help keep you on track so you don't go over your chosen limit.
Know the Source
While the Cheesecake Factory provides nutrition information for its menu, it's not a complete nutrition profile. The only other nutrient values known for the low-carb cheesecake are saturated fat, total carbohydrates and sodium.
One slice of the plain or strawberry-covered low-carb cheesecake has 33 grams of saturated fat, 42 to 44 grams of total carbs and 450 milligrams of sodium. Almost half of the calories in the cheesecake come from saturated fat, and about a quarter of the calories come from carbs.
For the record, the American Heart Association says you should limit your intake of saturated fat to less than 5 to 6 percent of calories, or not more than 12 grams on an 1,800-calorie diet. That one slice of low-carb cheesecake carries two day's-worth of saturated fat.
About Those Net Carbs
In its menu's nutrition information, the restaurant lists the total carb content and the "net effective carbs." Net carbs are the cheesecake carbs that affect blood sugar. On a low-carb diet, fiber and sugar alcohol content are subtracted from the total carbs in food to give you the net carb number.
However, while the low-carb cheesecake may be lower in carbs than other sweet treats on the Cheesecake Factory menu, it may be a tough fit for some low-carb plans. If, for example, you're in the early stages of your low-carb diet, as described by the Harvard T.H. Chan School of Public Health, and restricted to 20 grams a day, one slice costs you at least half of your daily carbs.
Enjoy Your Cheesecake
Whether counting carbs or calories, you can fit a slice of low-carb cheesecake into your plan when you visit the Cheesecake Factory. But, you'll have to cut back elsewhere.
For example, to make room for cheesecake carbs, carb counters may want to eat mostly carb-free foods, such as meat or eggs, on the day they plan to indulge. Calorie counters can enjoy low-cal fruits, veggies and lean proteins such as chicken or fish to save room for cheesecake.
The Cheesecake Factory offers lower-calorie meal options with its SkinnyLicious menu items to help you save calories and carbs on your main meal. Or consider skipping the low-carb cheesecake crust.
Another option is to ask your server for an extra dessert plate and fork so you can split a slice of low-carb cheesecake with a friend. You'll slash the numbers in your rich, creamy treat to around 300 calories.