About 70 percent of people who suffer from allergic rhinitis, or hay fever, experience an allergic rash after eating certain fruits and vegetables, according to US News and World Report. Even if you have not been diagnosed with hay fever, your skin can still develop allergic rashes from eating or touching fruits and vegetables. This condition is called contact dermatitis. If you develop a rash talk with your doctor for a proper diagnosis and treatment options. A skin rash is a sign of a medical condition.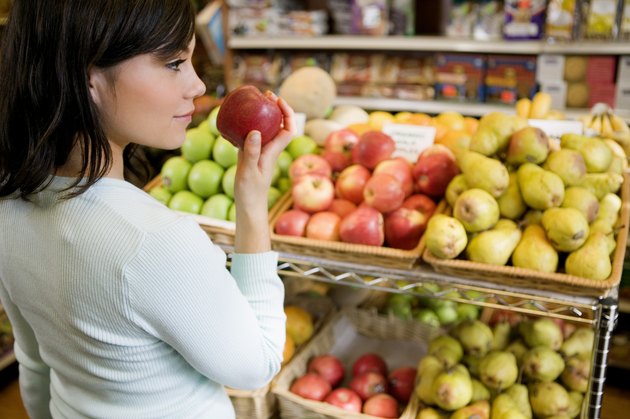 Allergic Skin Rashes
Allergic skin rashes are the result of increased Immunoglobulin E (IgE) antibodies and histamine levels in the skin. Your body doesn't recognize the fruit or vegetable as a safe substance and begins to defend itself, according to the American Academy of Allergy, Asthma and Immunology. Histamine is a body chemical that helps protect against viruses, bacteria and infections. Too much histamine causes inflammation and irritation in the skin, leading to common allergic skin rashes.
Types
The most common rashes caused by eating fruits and vegetables include hives, eczema and general itching. Hives appear in clusters of welts that are flat on top and have defined borders. They can form in any size or shape and can migrate to any part of the body. Eczema or contact dermatitis is one of the more common rashes that result from eating fruits and vegetables. Blisters can form in or around the mouth and neck and can spread throughout the face, arms and legs. You may experience a general itching and tingling sensation after eating fruits and vegetables.
Cause
Suffering from allergic rhinitis is one cause of a skin rash from eating fruits and vegetables. For example, if you're allergic to tree pollen, eating an apple may confuse the body into identifying the apple as pollen. This causes a chain reaction in the body that leads to an allergic reaction, according to US News and World Report. Contact dermatitis is eczema that forms as soon as a certain irritant is touched. Certain fruits and vegetables are more prone to trigger eczema, such as citrus fruits.
Treatment
Treat skin rashes from fruits and vegetables by removing the irritant or allergen. Wash the affected areas with soap and water to remove any residue from the food. Apply an over-the-counter steroid cream, such as hydrocortisone, to reduce the inflammation and itching, according to the American Academy of Allergy, Asthma and Immunology.
Concern
Hives that form as a result of eating fruits and vegetables could be a sign of a severe allergic reaction. If you develop symptoms with hives, such as shortness of breath, anxiety, a drop in blood pressure or dizziness, seek emergency medical attention as you may be experiencing anaphylactic shock.