The Centers for Disease Control and Prevention reports that every state in the U.S. except Colorado and the District of Columbia had an obesity rate of higher than 20 percent in 2009. Obese men face a variety of health risks, including diabetes, heart disease, high blood pressure, heart failure and several forms of cancer. Obese men can turn the tables toward good health by following an exercise plan. It's important, though, that obese men check with their doctor before beginning any exercise regimen.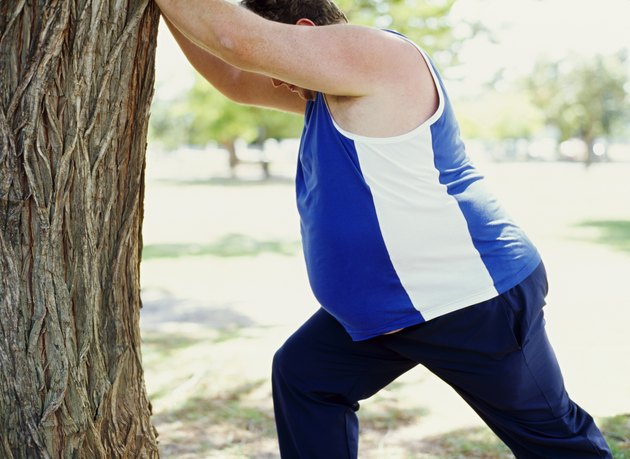 Benefits
The formula for weight loss is burning more calories than you consume, and exercise helps speed up your metabolism, so you can burn more calories even while resting. Obese men can lose weight by exercising, which will also reduce the risk of many diseases and conditions. Exercise strengthens the cardiovascular system, diminishing your risk of heart disease, high blood pressure and stroke. A regular workout routine can also help you have more energy, tone up and feel good.
Cardio Workouts
Cardiovascular activities elevate your heart rate for the duration of your workout. Cardio exercises strengthen your heart, lungs, arteries and muscles, as well as burn calories. Some popular forms of cardio exercises include running, walking, cycling, swimming, hiking and team sports such as soccer, basketball and tennis. Obese men should start with low- to moderate-intensity aerobic workouts to ease into a fitness program. Some beginner-friendly aerobic workouts include walking or cycling on a stationary bike. The American College of Sports Medicine advises adults do moderate intensity cardio 30 minutes a day, five days a week for good health.
Cardio Workout Plans
Obese men can do cardio workouts -- with a doctor's approval -- five times a week for 30-minute sessions, or break up the workout into shorter, more frequent sessions. You can start out by walking outside or on a treadmill. Record your workouts and measure your weight loss in inches and pounds each week to stay on track and see your progress. You might build muscle mass in the beginning, which weighs more than fat, so do not be alarmed if your weight fluctuates at first.
Resistance Training
Resistance training can help you build lean muscle mass and burn calories while you work out. Strength training also boosts your metabolism so you burn more calories while resting. You can lift free weights, use weight machines or your own body weight for resistance. Some popular resistance training activities for men include pull-ups, push-ups, crunches, bench press, biceps curls, triceps extensions, squats and lunges. You can try modifications for push-ups by doing them from your knees or against a wall if you need to. If you are unsure of how to do a particular exercise, ask a trainer, coach or physical therapist. The ACSM recommends doing resistance training workouts twice a week with eight to 12 reps of eight to 10 exercises.
Warning
Check with your doctor before beginning a workout plan as you may have certain restrictions or requirements, depending on your condition, age and health history. If you experience any sharp or lasting pain while working out or become dizzy, disoriented or exhausted, stop immediately and call your doctor. Men with heart conditions should be especially vigilant and call 9-1-1 if exercising triggers any chest pain or tightness or pain that spreads to the shoulders and arms.