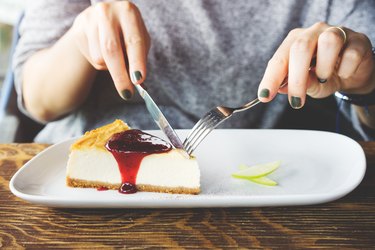 Here's the bad news: Many of the items on the Cheesecake Factory menu are off limits if you're following a low-carb diet. Still, the large restaurant chain offers a number of low-carb options that will keep you full and happy, including two kinds of cheesecake that are lower in carbs than the regular versions.
Be sure to check out the menu before you go, and track your meal on a calorie counter app, so that you have enough carbs available to enjoy your meal out. And don't be afraid to ask for substitutions or make modifications.
Healthy Eating Tips for the Cheesecake Factory
For the most part, eating out at a restaurant like Cheesecake Factory usually isn't ideal for anyone counting calories or carbs or trying to lose weight. And the chain doesn't make it easy, as it doesn't readily offer nutritional information on its website.
But there are ways to plan ahead and make sure you're making healthy choices, like using an online calorie tracker, no matter which meal of the day you consume here.
Nutritionists and dietitians alike recommend sticking to two specific sections of the Cheesecake Factory menu while watching your calorie or carb intake. The SkinnyLicious and "Super" Food sections offer slightly healthier fare than other parts and include lots of vegetables, whole grains and lean proteins.
Alanna Cabrero, R.D., provided this tip to Women's Health when it comes to how dishes are cooked and then described on the menu: "Pros include roasted, steamed, fresh and sauteed. Cons include candied, crispy, melted and fried," she says.
Here are some more tips and tricks to take with you on your next trip to Cheesecake Factory:
Plan ahead by taking a look at the menu before you go. Going in knowing what you'll order takes away the chance of being tempted by a higher-calorie dish when you're hungry and ready to order.

Eat half of your dish of choice while dining at the restaurant, and save the other half for another day.
If you order a salad, ask for the dressing on the side so you have control over how much you consume.
Go bunless! If you're in the mood for a sandwich, ask for it without the bun or in a lettuce wrap instead.
Skip the sides or replace fries with steamed vegetables or a side salad (again with dressing on the side).
Low-Carb Appetizers, Small Plates and Salads
You'll be able to find a variety of different low-carb options to start off your meal in the appetizer, small plate and salad categories. According to the nutrition information provided by LIVESTRONG.COM's food database MyPlate, the following menu items have fewer than 20 grams of carbohydrates:
Little House Salad: 9 grams of carbs
Ahi Carpaccio: 14 grams of carbs
Endive Salad: 14 grams of carbs

None of the entree-size salads has less than 20 grams of carbohydrates per serving. If you're eating a salad as your entree and you have more carbs to spare, you might go with the Caesar salad with or without chicken, herb-encrusted salmon salad, Cobb salad or the seared tuna tataki salad. Each of these salads has between 23 and 28 grams of carbs per serving.
Note that salad dressings will add anywhere from one to five grams of carbs to your meal.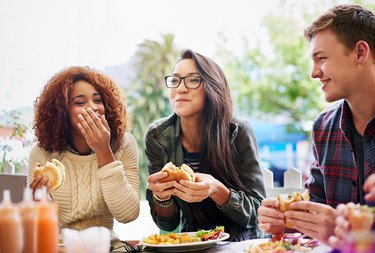 Low-Carb Burger and Sandwich Options
The sandwiches and burgers on the Cheesecake Factory menu may not easily fit into your low-carb diet, but you can always ask for the patty without the bun.
According to MyPlate, each of the following options with the bun included has 90 grams of carbohydrates or fewer:
Turkey Burger: 57 grams of carbs

Chicken Salad Sandwich: 78 grams of carbs
Cuban Sandwich: 90 grams of carbs
A traditional hamburger bun has 21 grams of carbohydrates, and it's likely the Cheesecake Factory buns are larger than a traditional bun. So if you go bunless you can expect to subtract at least 21 grams of carbohydrates from each of those choices above. And, of course, skipping the fries helps immensely too.
Other Entrees You Can Modify
From the specialty menu you may be able to make a few requests to some of the dishes to make them fit your plan. For example:
Chicken Madeira: 73 grams of carbs (order without mashed potatoes to save 36 grams of carbs)

Grilled Fish Tacos: 86 grams of carbs (order without the tortillas, rice or beans to save up to 80 grams of carbs)
Keep in mind that it's not always easy to know which dishes will fit your plan because carbohydrates can be hidden in the flavorful sauces smothering the poultry or meats.
Dietitian Heather Mangieri, M.S., RD, CSSD, told Eat This, Not That! that her go-to meal at Cheesecake Factory is the Chicken and Mushroom Lettuce Wraps. "The calorie count is balanced, with around 27 grams of carbohydrate, 23 grams of protein and 16 grams of fat per plate," she said.
"That, too, still leaves room to enjoy a glass of wine with my meal without overdoing it. However, the sodium content is pretty high (915 milligrams), so be sure to drink lots of water with your meal."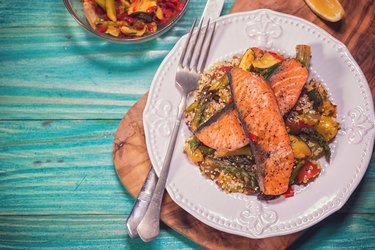 Steak, Seafood and Sides
If you're not a fan of modifying meals, the Cheesecake Factory menu offers a few make-your-own-style meals in the restaurant's steak, chops, fish and seafood sections of the menu. Many of these animal proteins are offered grilled:
Steak Diane: 53 grams of carbs

Filet Mignon: 64 grams of carbs

Rib-Eye: 64 grams of carbs

Grilled Salmon: 47 grams of carbs
Herb-Crusted Salmon: 44 grams of carbs

Though the carb counts for the steak entrees are high for those trying to stick to a low-carb diet, remember that you don't need to eat the whole thing. You can save half for later.
The steak and seafood part of the menu lets you pick your own sides. Low-carb options include:
Green Beans: 12 grams of carbs

Sauteed Spinach: 11 grams of carbs

Fresh Asparagus: 7 grams of carbs

Broccoli: 12 grams of carbs

According to The Food Network, the grilled tuna is a great way to go. "Order the fish with a side of seasonal veggies, and share it with the whole table," the company recommends. The tuna itself without the veggies has just three grams of carbohydrates.
Eggs and Omelets
Eggs aren't only for breakfast at Cheesecake Factory. The eggs and omelet section of the menu offers a number of low-carb choices throughout the day.
Farm Fresh Eggs with Old Smokehouse Bacon: 1 gram of carbs
Plain Omelet: 2 grams of carbs

Spinach, Mushroom, Cheese and Bacon Omelet: 7 grams of carbs
Round out your egg meal with such no-carb sides as:
Bacon: 0 grams of carbs

Canadian Bacon: 0 grams of carbs

Grilled Ham: 0 grams of carbs
Low-Carb Cheesecake Factory Dessert
What trip to the Cheesecake Factory is complete without an actual slice of cheesecake? To help you fit a sweet ending into your meal, check out the restaurant's low-carb cheesecake options:
Low-Carb Original Cheesecake: 40 grams of carbs

Low-Carb Cheesecake with Fresh Strawberries: 42 grams of carbs

Again, carb counts are high, so you might want to split with a friend (or two).
What Do YOU Think?
Have you ever eaten at Cheesecake Factory? What did you think? What did you order? Were you trying to stick to a low-carb diet? Did you have any other dietary restrictions? Are there any tips you'd give to others? Share your thoughts and suggestions in the comments below!
More About MyPlate
The free LIVESTRONG.COM MyPlate calorie tracker app for iPhone and Android has helped millions of people lose weight the healthy way — by getting support from an active community as they track their eating and exercise. Consistently a top-rated app, MyPlate offers the latest technology in an easy-to-use tool that includes millions of foods and recipes, five-minute in-app workouts and a robust support community.