It's natural for people to lose muscle and gain body fat, which can be a concern, notes MayoClinic.com. Building more muscle can increase strength and improve overall health and stamina, but cramming down too many extra servings at meals isn't the most productive or healthy way to do so. Instead, try a regimen of strength training and a balanced, varied diet with a moderate amount of extra calories.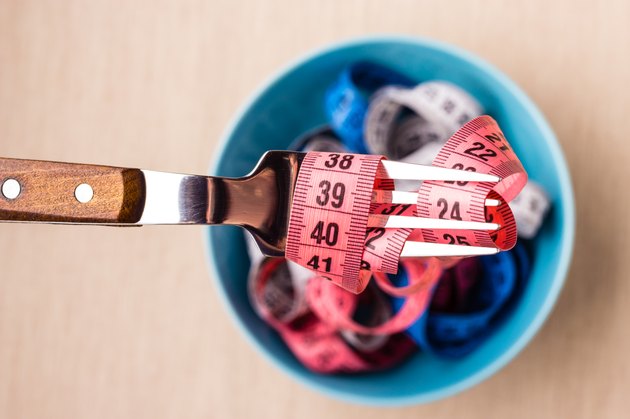 Benefits
There are several notable advantages to gaining muscle mass. Strength training, which works to build and strengthen muscles, can also improve posture, balance and stability. It also helps to counteract the diminishing muscle mass that people experience as they age. The Mayo Clinic maintains that building muscle strengthens bones, helps with weight control and weight loss, reduces injury risks, builds stamina and alleviates symptoms of many chronic health conditions.
Diet
Although it seems logical to believe that the body may need thousands of extra calories to gain muscle, that's rarely the case. Over time, excess calories that the body does not burn convert to stored fat, and they don't contribute to adding muscle mass. To prevent fat gain and keep the body in top shape for building muscle, eat about 250 to 500 extra calories per day in a balanced diet of healthy, nutritious foods, CNN.com recommends.
Protein
Protein is one particularly important nutrient for people who want to build muscle because protein works to protect and grow skin, bone and muscle tissue. Most people get enough protein in their regular diets, but it can be helpful to switch to lower-fat sources of protein such as nonfat yogurt, skim milk, low-fat cheese, beans, lentils, soy and lean meats. The Mayo Clinic recommends getting 10 to 35 percent of daily calories from protein, or about 50 to 175 g in a 2,000-calorie diet.
Exercise
Exercise is likely the most important component in a plan for building muscle. Of the three main exercise types -- aerobics, strength training and flexibility -- strength training is the most effective choice to accomplish it, according to ACEFitness.org. Try regular sessions of calisthenics, weight-bearing exercises, weightlifting, resistance band exercises or workouts with weight machines. Let muscles rest for a day between sessions, and always learn proper technique before trying a new movement. Note that strength training is not an adequate replacement for a complete exercise plan, which also includes aerobics and stretching.
Foods
Eating extra calories every day in an attempt to build up muscle can be a struggle for some people, and conflicting information about what to eat doesn't help. Since muscles burn mostly carbohydrates while working, according to Fitness.gov, it can be useful to take in a few extra servings of complex carbs each day. Adding egg whites, fish, chicken, low-fat cottage cheese or protein powder to the daily diet can also help successfully build muscle, CNN.com notes.