It takes discipline and patience to follow a muscle-building workout program. Workouts are typically long because you have to complete numerous exercises for multiple sets. The workouts are designed to break down and damage your muscle tissue. As your muscle tissue heals, it simultaneously increases in size. For your workout program to be effective, you have to schedule sessions so that muscles have time for this recovery period.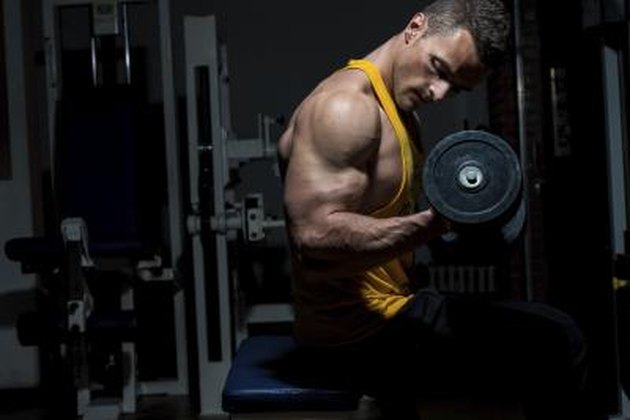 Importance of Rest
The break down of the tissue that occurs during high-volume weight training workouts is what stimulates the muscle-building process. Because the healing and building process occurs during the rest times in between workouts, days off are just as important as the workouts themselves. It's essential to give your muscles enough time to fully recover or you'll be severely limiting their development. Without recovery time, you will end up breaking down your muscle tissue again during your next workout without ever allowing your muscles to heal.
Appropriate Rest
How much rest your muscles need in between workouts depends on the volume of your workouts. Beginners won't be doing as many exercises or sets, so their muscles won't need as much time off as advanced lifters who are going through workouts of higher volume. According to strength and conditioning specialist Keith E. Cinea, you should allow your muscles 48 to 72 hours of rest in between workouts.
Workouts per Week
To allow for 48 to 72 hours of rest, you should work your muscles two to three days per week. If you complete three workouts per week, schedule your workouts on Mondays, Wednesdays and Fridays or on Tuesdays, Thursdays and Saturdays. If you decide to work out two days per week, a Monday and Thursday schedule or Tuesday and Friday routine would be ideal.
Benefits of Split Schedule
Those who are training to build muscle often work out more than three days per week. You can do this while still giving your muscles enough rest by splitting your muscles into separate workouts. For example, you can work out four days per week by focusing on your upper-body muscles on Mondays and Thursdays and your lower-body muscles on Tuesdays and Fridays. A higher-volume routine includes six workouts per week by focusing on your legs and back on Mondays and Thursdays, your chest and shoulders on Tuesdays and Fridays and your biceps and triceps on Wednesdays and Saturdays. Splitting your muscles into separate workouts gives you more time to work each muscle and still allows them 72 hours of rest.