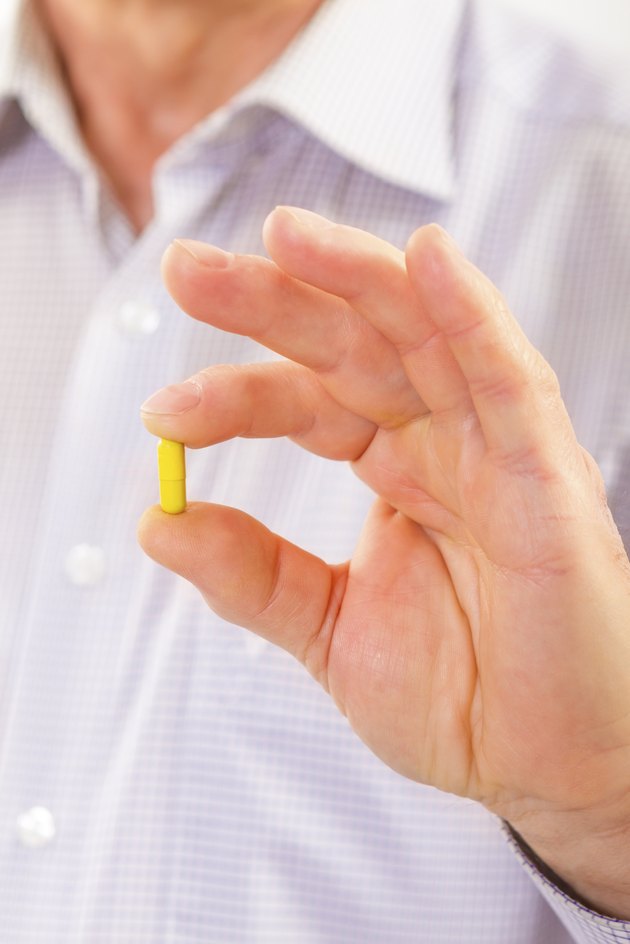 Taking a vitamin supplement may encourage optimum health, muscle building and recovery, and protect you from illness. The GNC Mega Men series is designed for the unique needs of male nutrition. A variety of supplements focus on even more specific needs: older men, athletic men, and particular needs, such as to gain energy or to enhance virility.
Pros
Men, who require a lower intake of iron than women, in general do not need iron added in their multivitamin. The Mega Men series does not include iron. Besides the usual vitamins and minerals included in a multi, Mega Men vitamins also include an amino acid blend to support muscle and tissue development. Also included is a fruit and vegetable blend, gaining antioxidants from pomegranate, spinach, acai, and cranberry.
Cons
ConsumerLab.com, an online resource for well-tested multivitamin reports, states that the pills are relatively large and can be difficult to swallow. This is corroborated by many online reviews and thorough analysis done by ConsumerSearch.com. Both sources also report that the Mega Men series potentially includes an unnecessarily large amount of some vitamins and minerals, such as vitamin B-6.
Toxicity
Vitamin B-6 supports brain and blood development. The National Institutes of Health advises that too much B-6 can result in nerve damage in the extremities. The Daily Recommended Intake is 100 mg. All intake – through supplementation and nutrition – should be considered.
Dosage
The daily dosage of the GNC Mega Men supplements is two pills per dose. This amount delivers 100 percent of the Daily Recommended Allowance of almost all nutrients and vitamins.
Warning
Always consult your doctor before taking any dietary supplement. Inform your health professional of any health issues or medication that may be interfered with when taking a supplement. When taking the supplement, medical care should be obtained if adverse reactions manifest after taking the supplement.