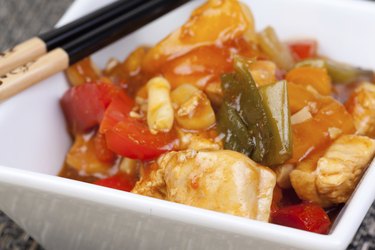 Sweet and sour chicken tends to be one of the less healthy options at Chinese restaurants because the dish consists of mainly breaded and fried chicken with a sugary sauce. However, you can find lower calorie versions in the frozen food section or make your own version at home.
Restaurant Version
A typical restaurant order of sweet and sour chicken weighs about 706 grams and provides 1,765 calories and 89.3 grams of fat, or 137 percent of the daily value for fat. However, this order will probably feed at least two people. Eat it with a cup of white rice and you'll add another 205 calories to your meal.
Frozen Meal
Frozen dinners containing sweet and sour chicken tend to offer much smaller portions and a more reasonable calorie count. One of these meals, weighing about 283 grams, provides 320 calories and 3.2 grams of fat. This is a good option if you would like to make sweet and sour chicken a regular part of your diet.
Homemade Version
Make a healthier version at home by stir-frying unbreaded chicken with lots of vegetables and a little sweet and sour sauce. The more vegetables you use, the lower your overall calories per portion will be. A 3-ounce serving of boneless skinless chicken breast contains 161 calories; a cup of frozen mixed vegetables adds another 118 calories; and one-quarter cup of sweet and sour sauce adds 106 calories.