If you're considering forgoing food to try to lose weight or "cleanse" your body, be warned: You're likely to do more harm than good by living on water alone. Fasting does not lead to lasting weight loss, and it can come with numerous unpleasant side effects. What's more, evidence does not show water fasting or other cleansing methods to rid the body of toxins, according to New York University's Langone Medical Center.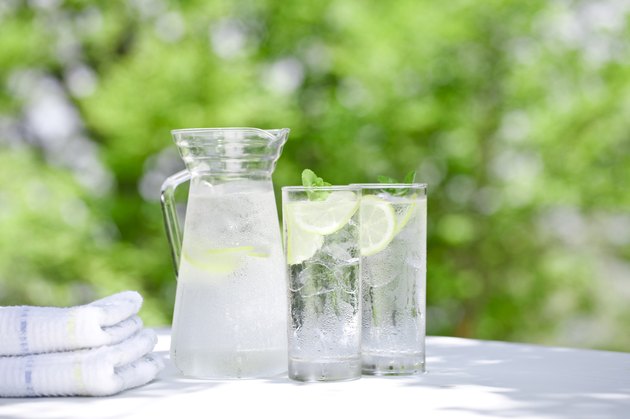 Short-Term Problems
Without calories or other nutrients from food, you'll likely feel tired and lethargic on a water fast. You may also feel dizzy and lightheaded and experience headaches, low blood pressure and abnormal heart rhythms, according to the American Cancer Society. The organization also notes that these effects can make driving or operating heavy machinery more dangerous than usual and that fasting can even increase the risk of an attack in people who suffer from gout. In addition, a water fast might make gallstone symptoms worse.
Long-Term Complications
If your water fast lasts for days or longer, the risks grow dramatically. You may compromise your immune system and organ function, possibly damaging the kidneys and liver. The length of time it takes to develop severe side effects depends on how well-nourished you were to begin with, along with other factors, and it isn't clear exactly how long people can live on water alone, according to Dr. Alan D. Lieberson. Although Lieberson states that some hunger strikers have reportedly lasted up to 40 days, there are no guarantees that you could survive that long without food.
Weight Fluctuations
A water fast may lead to rapid initial weight loss, but the numbers on the scale can be deceptive. Severe caloric deprivation causes muscle and water loss, so much of the weight isn't coming from fat. Your metabolism will also slow as your body tries to conserve energy, so you'll start burning fewer calories than you did in your solid-food days. Once you start eating normally again, the pounds will pile back on quickly -- and you may even wind up weighing more than you did when you started your fast.
Staying Nourished
To meet basic nutritional needs, most women need at least 1,200 calories per day, and most men need at least 1,500 calories per day, according to Harvard Health Publications. To lose weight the healthy way, get those calories from fresh, unprocessed foods such as fruits, vegetables, whole-wheat bread, brown rice, fish and beans. Then, exercise regularly to help prevent muscle loss and burn more calories, helping you slim down faster. This method will eliminate the risks that come with fasting and help ensure that the weight stays off for good.