Squats and sciatica unfortunately go together too often among athletes. Sciatica often results when athletes push themselves too hard and too soon in training, which leads to injury and pain. The sciatic nerve, the longest nerve in the body, runs down the spinal cord, through the buttocks, down both legs and into the feet. When irritated it causes pain that varies from a dull, low backache to sharp pain down one leg or both. Understanding the hamstring muscles and how to develop them may help prevent sciatica.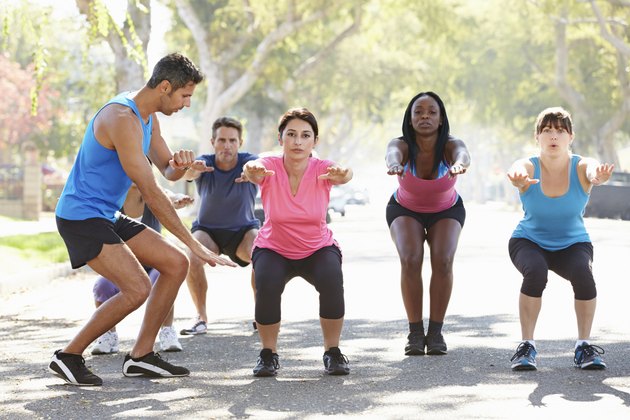 Pain in the Butt
Sciatica may be a pain in the rear, but it isn't a disorder; it is often the smoking gun of a problem elsewhere in the body that squat exercises can exacerbate. Common problems include compressed disc, neurological issues and piriformis syndrome. Poor form in exercise, often caused by weak supporting muscles, stresses other muscles and tendons compensating for the weakness. This scenario often lays the groundwork for sciatic nerve pain.
Don't Take Pain Lying Down
Sciatica is often characterized by a swift burning pain down one leg, and can be accompanied by tingling or numbness in the leg or foot. Developing muscle balance and flexibility in the posterior chain is one of the ways to improve sciatica and prevent future flareups. Physicians typically advise bed rest or reduced activity on the first couple of days, but not for extended periods of time -- unless pain is severe. Instead, doctors encourage exercise and mobility as soon as possible to help relieve sciatica. Squats are not usually on the roster of exercises.
Pump Up the Posterior
Exercises that develop the posterior kinetic chain help combat sciatica and low back pain by building strength and flexibility in the lower legs and hamstring muscle group. Although squats have a place in strengthening the lower body, they should be avoided at certain phases of the sciatic pain syndrome. Physicians advise patients to avoid heavy lifting and twisting in the six weeks following the flare-up. Perform exercises aimed at core strengthening and spine flexibility after 2 to 3 weeks, targeting the glutes, low back and top of the hamstrings; however, avoid performing squats.
Scrub the Squats
Squats do not strengthen the posterior muscles, which is contrary to popular belief. Squats, especially weighted squats, compress the spine and irritate the sciatic nerve, which can create lead to sciatica when posterior chain muscles are weak. Squats rely on already strong posterior muscles. If your posterior muscles are weak, your squat form will be poor; you may also find doing squats incredibly difficult.
Don't Get Sidelined By Sciatica
A beneficial posterior chain-strengthening workout should mix up compound and isolation exercises to avoid getting sidelined by sciatica. If you're already experiencing sciatica, certified personal trainer Jarueba Taylor of Taylored Nutrition advises stretching before exercising. Perform reverse hyperextension kettlebell swings and leg curls, using a balance ball or machine.