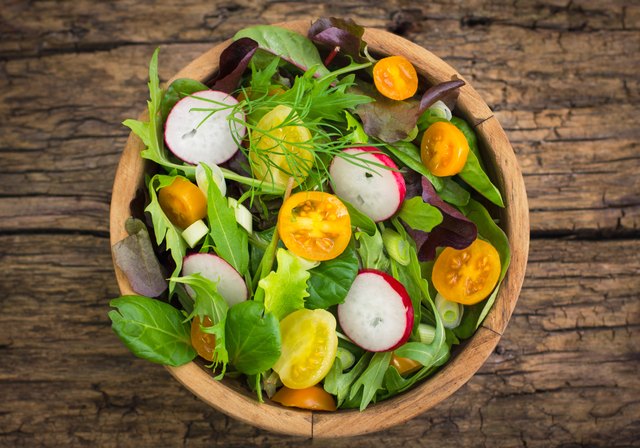 Because raw leafy greens and watery vegetables are among the lowest-carb foods available, you can eat lots of salads while on a low-carb diet. A moderately low-carb diet has you consume fewer than 150 grams of carbs per day, and some extremely low-carb plans restrict you to 20 to 50 grams per day. How you choose to spend these carbohydrate grams is up to you as a dieter, so if you want to include salad dressing, you certainly can. Many types of salad dressing are quite low in carbohydrates, too, especially those that you whip up at home.
Commercial Salad Dressings Are OK
Oil-based bottled dressings are often low in carbs, especially if they contain no added sugar or starch-based thickeners. The first phase of the Atkins plan, a well-known low-carb diet, allows just 20 grams of carbs per day. Even with these restrictions, you're guided to choose any bottled dressing that has 2 or fewer grams of carbohydrates per 1- to 2-tablespoon serving. Options the Atkins diet lists as possibilities are blue cheese, Caeser and creamy Italian. However, use caution with low-fat dressings, which sometimes have added sweeteners to boost flavor, so check the ingredients label.
Make Your Own Low-Carb Dressings
Make your own salad dressing with a salad oil, such as extra-virgin olive oil or walnut oil, and a low-carb, acidic ingredient. Then add herbs and spices to create a tasty low-carb dressing. For example, red wine vinegar makes an essentially carb-free, all-purpose dressing when blended with olive oil, salt, black pepper and chopped shallots.
Lemon juice, lime juice and balsamic vinegar are other acidic ingredients you could sub for red-wine vinegar. Make a tangy lemon vinaigrette for bitter greens such as arugula with lemon juice, walnut oil, thyme leaves, salt and black pepper. Mix balsamic vinegar with olive oil, salt, black pepper and chopped garlic to dress a hearty steak and avocado salad on romaine leaves.
Other Low-Carb Condiments
Mayonnaise with no added sugar is allowed on extremely low-carb diets. Use it to add flavor to a tuna or chicken salad made with chopped celery and herbs. Or make a chunky cucumber dressing by seeding, peeling and chopping a cucumber, mixing it with mayonnaise, lemon juice, chives and garlic. This dressing works best for hearty greens, such as romaine or chicory leaves.
For those on more moderate low-carb diets, Greek yogurt can be the base for a creamy dressing ingredient, as it has just 3.5 grams of carbs per 1/2 cup. Create a mock-Caesar dressing by blending together plain yogurt with a dash each of mustard, Parmesan cheese, minced garlic, chopped anchovies, red wine vinegar, lemon juice and salt and pepper to taste.
Just Oil and Vinegar
If you're eating out and can't check the ingredient label of the restaurant's salad dressing to find out if it has added sugar or starch, ask for plain oil and vinegar. Load up your salad with tasty, low-carb ingredients to make it satisfying. Chopped egg, avocado, deli meat, chicken breast, bacon, grated or crumbled cheese and fresh herbs provide plenty of flavor even if your dressing is rather bland.