If you want to build muscle, there are ways to get faster and better results. Although some people use a TENS unit to try to build muscle, there is no conclusive evidence suggesting that it works. Electrical impulses make the muscle contract, providing a minimum level of stimulation. However, the level of intensity needed to build muscle would be extremely high, and therefore, painful. A more effective way to stimulate muscle growth is to perform regular strength training exercises.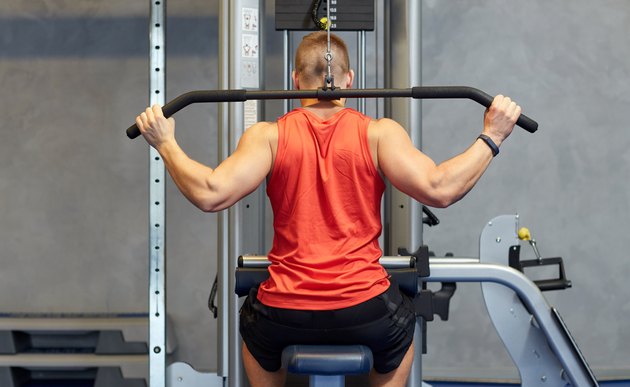 Transcutaneous Electrical Nerve Stimulation
A transcutaneous electrical nerve stimulation, or TENS, unit is generally used to help relieve muscle and joint pain, especially back pain, sports injuries, migraine headaches and arthritis pain. Most are small battery-operated units with electrode pads that attach to the skin. The unit creates an electric current that stimulates muscles and numbs the nerves by sending electric pulses into the nerves. The heat generated by the current can help reduce pain and stiffness by increasing the release of endorphins in the body. Although a TENS unit is designed to provide pain relief through nerve stimulation, placing the electrode pads correctly on a muscle can cause a strong muscular contraction. Using electrical muscle stimulation alone or in combination with TENS may help tone your muscles, particularly when used in addition to exercise and weight training.
Electrical Muscle Stimulation
Electrical muscle stimulation can build muscle, but not enough to enhance athletic performance. Slow electrical pulses cause muscles to contract and relax, contributing to muscle build-up similar to passive exercise. The devices are actually a type of TENS machine, as they work in much the same way. EMS machines stimulate muscle motor nerves rather than sensory nerve endings, the way TENS units do. Electronic muscle stimulators are used to help prevent muscle atrophy, to assist in relieving pain and to tone muscles.
How EMS Works
An EMS unit simulates the contraction and relaxation cycle of a muscle or muscle group, which helps to loosen muscle fibers. To some degree, EMS machines can stimulate the same cycles that occur when you are exercising your muscles. This form of electrical stimulation also works to improve blood flow to the muscles, which can result in more muscle growth. Physicians, physical therapists and rehabilitation specialists often use EMS units to treat and repair muscle injuries.
Caution When Using
The American Cancer Society advises against using a TENS machine if you have a pacemaker, infusion pump or implanted defibrillator. In fact, people who have any type of heart problem should not use these devices. Neither should you use these devices if you are pregnant or have epilepsy. Never place the electrodes near the heart, temple, head, throat or eyes. Keep away from broken skin or open wounds. Use the device correctly to prevent electrical current from burning or irritating the skin. Always talk to your doctor before using any form of TENS unit.
Other Considerations
For best results, an individual who wants strong muscles and a lean body should eat a healthy diet and include strength training and aerobic exercise as part of a regular fitness program. A regular strength training regimen can help you reduce body fat and increase your lean muscle mass. As a result, your body will burn calories more efficiently. Other benefits of strength training include increasing bone density and boosting stamina. Building muscle also reduces your risk of injury.