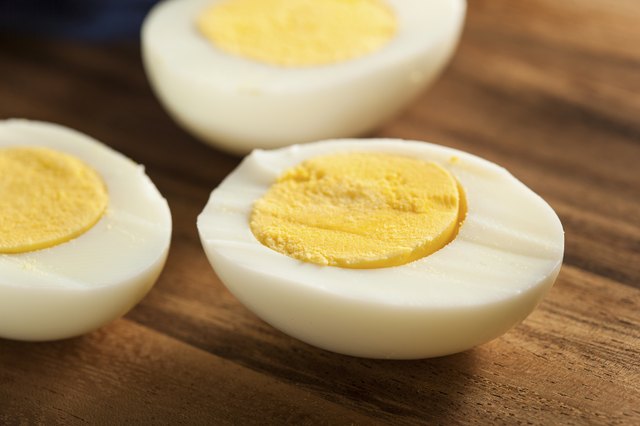 Sprinkle a little paprika and freshly cracked pepper on hard-boiled egg whites and you have a light and healthy protein-rich snack. Of course, you can always dice up your cooked egg whites and toss them in a salad. No matter how you enjoy your hard-boiled egg whites, you'll get the protein you need to curb your appetite, with a minimal number of calories and no cholesterol.
Calorie Count
A large hard-boiled whole egg has about 75 total calories. Scoop out the yolk and you'll get rid of around 55 calories, leaving less than 20 calories in the egg white. Of the calories in hard-boiled egg whites, just 1.5 are from carbohydrates and fat combined. All of the remaining calories, about 15 of them, are from protein.
Protein Grams
The white part of a hard-boiled egg offers 25 percent more protein than the yolk. You'll get over 3.5 grams of protein from the white of a large egg. Your diet should consist of 10 to 35 percent calories from protein, according to the Dietary Guidelines for Americans 2010. This means that if you are on a 2,000-calorie diet, you need to get 200 to 700 calories from protein every day. There are 4 calories in each gram of protein, so divide the calories by 4 to convert them to grams of protein. This amounts to 50 to 175 grams of protein, based on 2,000 calories, which gives you 2 to 7 percent of the recommended amount of daily protein.
Kinds of Minerals
Hard-boiled egg whites contain several minerals, just not in large amounts. You'll get some of the bone-building minerals -- calcium, magnesium and phosphorous -- as well as the electrolyte minerals potassium and sodium. Electrolytes conduct electricity for muscle and heart functions. This lean protein source even has a bit of iron, a mineral you need for blood processes, as well as antioxidant minerals zinc and selenium. Your body needs plenty of antioxidants to guard cells against destructive free radicals, which are molecules that can leave you susceptible to developing chronic ailments if too many pile up in your bloodstream.
Vitamin Details
You won't get large doses of any vitamins by eating just the white part of a hard-boiled egg, but you will get small levels of a few B vitamins. Egg whites have trace amounts of choline, riboflavin, B-12, folate, niacin and B-6. These B vitamins work in combination to run your metabolism, convert food into energy, support brain communications and maintain blood processes.