For many athletes, the Ironman triathlon represents the ultimate challenge of endurance. You'll swim 2.4 miles, cycle 112 miles and run a full marathon — 26.2 miles.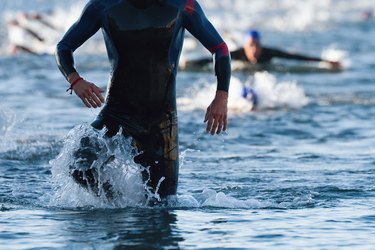 Preparing your body and mind for these feats takes time and effort. Many people tackling this distance —especially for the first time — hire a coach or join a group training program in their area.
This has some major upsides, including accountability and individualized instruction. "You'll also learn from your fellow athletes in the community," says Sharone Aharon, a triathlon coach and founder of Well-Fit Triathlon & Training, Inc. in Chicago.
But what if you don't live close to a coach or find yourself short on funds? You'll still want to seek out a structured, well-designed training plan.
There are plenty of low-cost or even free Ironman training plans online, in books or on apps. Doing some homework beforehand can ensure you choose one that will carry you through to race day.
Grasp Your Goals
Ask yourself what you're hoping to accomplish, then seek out a program that aligns with your goals, says Patrick Billingsley, a swim and triathlon coach in Wellington, Florida. Some plans promise to power you to your fastest race, while others are best for less experienced athletes who aim to cross the finish line with a smile.
Warning
You can expect to work hard, but choosing a plan that's unrealistic can result in overtraining and injury. Meanwhile, a program that isn't ambitious enough can leave you feeling bored or make you fall short of your goals.
Check Your Sources
Look for a plan written by an experienced triathlon coach who has raced the distance personally (it doesn't matter if they're the speediest athlete, but they should have some firsthand knowledge). Certification by or involvement in USA Triathlon is always a good sign, Aharon says.
Read online reviews of the plans or coaches you're vetting. Ask other athletes who've used the plan about their experiences. "People who have done races nearly always love talking about them, so don't be shy," says Billingsley.
You can also reach out to the coach behind the plan, even if you aren't interested in hiring them for more personalized assistance. Jen Rulon, a San Antonio-based triathlon coach, says she encourages athletes to reach out with questions about whether her online plans are a good fit for them — she wants satisfied customers!
Consult Your Calendar
Ironman plans can range from seven to nine months long for beginners and four to six months long for experienced athletes, Aharon says. Look for a program that matches your fitness level and amount of training.
From there, your plan should build slowly, with the distance of each training session increasing about 10 to 15 percent per week. Well-designed plans also incorporate a recovery week every two to three weeks, where you reduce your training volume slightly before increasing it again the following week.
Completing an Ironman requires a significant training commitment, but some plans ask more of you than others. You can likely cross the finish line starting with six to seven hours of training per week, then working up to 16 or 17 at your peak, Aharon says. Advanced athletes with ambitious time goals might start with seven to nine hours per week and max out at 20 or 22.
In that time, you'll start to log some serious distance. Your swim might max out at 4,000 meters; you'll want to complete at least one or two 100-mile bike rides; and your longest run may last two and a half to three hours. "You do not need to run a full marathon before you do an Ironman, though," Rulon says. Doing so might leave you too exhausted to recover.
The biggest key to success in the Ironman? Consistency in training, Aharon says. It's far better to choose a plan that better matches the time you think you'll have available and stick to it than to choose one that has you aiming too high and falling short. And when you're crunched for hours, consider getting in a shorter run, bike or swim instead of skipping your workout altogether.
Divide Among Disciplines
When it comes to how to spend those training hours, Aharon recommends a minimum of three runs, two cycling sessions and two swims per week, and Rulon suggests working up to three of each per week. Both also prescribe two strength-training sessions weekly.
Tweak these general guidelines based on your personal strengths and weaknesses. "If you're a terrible swimmer, you need to get in the water more — four times per week," says Rulon. Even if you're not the speediest swimmer, you'll want enough efficiency and endurance in the sport that you're not exhausted when it's time to bike and run afterward.
Tip
Don't forget your brick workouts, where you practice transitioning directly from the swim to the bike, or the bike to run, the way you will in the race. Aim for one to two of these a week.
Taking one day off a week, Rulon believes, is essential so your body and mind can recover. All that means you'll need to do some doubling up on the other days.
Tune Up Along the Way
Especially if you haven't raced at shorter distances before, choosing a plan with at least one or two competitions built in can give you valuable experience racing. You might start with a sprint distance (a half-mile swim, 12.4-mile bike and 5K run) and move on to an Olympic distance (1.5K swim, 40K bike and a 10K run) or half-Ironman (1.2-mile swim, 56-mile bike and 13.1-mile run).
Rulon likes to see her Ironman athletes do two races at the half-Ironman distance before taking on the full. "You can figure out your nutrition, work on speed and get comfortable on the bike and being outside," she says.
Warning
Don't overdo it. If you're racing every weekend, you risk burning out before your goal race.
Get Out and Get After It
Here are a few free online plans to consider:
The 10-Hour Week Ironman Training Plan: Triathlete magazine has a plan to get you to the finish line strong if you're time-crunched, written by experienced competitor and coach Lance Watson.