A healthy nighttime snack can keep your hunger at bay until breakfast, but fatty, greasy and salty foods can hinder your ability to fall asleep and may prevent you from staying asleep as well, reports Elizabeth Somer in her book "Food and Mood: The Complete Guide to Eating Well and Feeling Your Best." More bland foods can prevent midnight hunger but will not prevent you from getting a good night's sleep.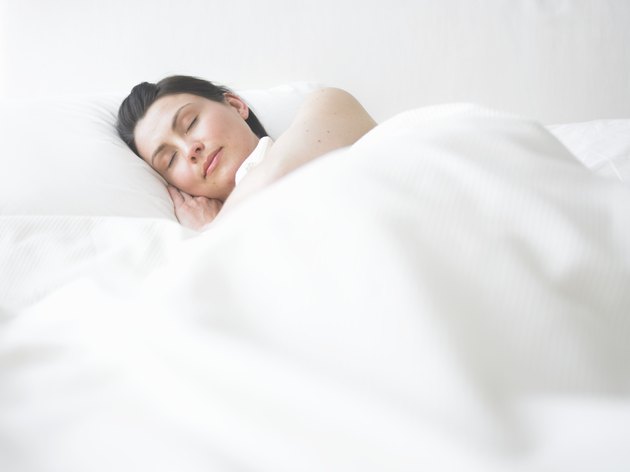 Chips and Salsa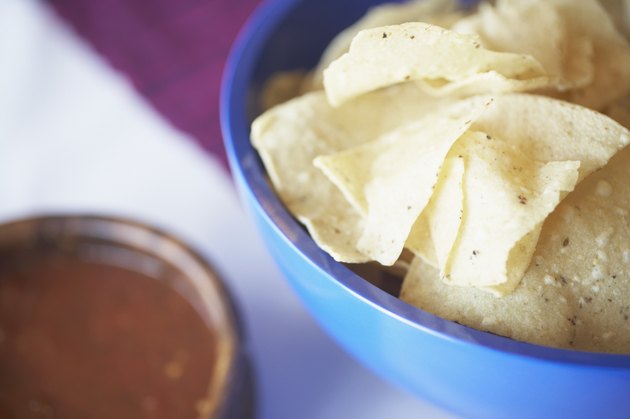 Chips are quite salty and salsa can be very spicy, a combination that can make you uncomfortable and bloated so you have a hard time falling asleep as well as staying asleep all night. Eating salty foods can cause you to retain water, notes Somer, which can make you too uncomfortable to feel drowsy and can keep you from getting restful sleep. Salsa often includes spicy peppers and spices that can cause heartburn and indigestion, two conditions that can make it difficult to sleep well. Somer adds that many chips also contain monosodium glutamate, another food additive that can disrupt sleep and cause stomach upset. Air-popped popcorn is a healthy alternative that does not contain too much salt or added spices.
Nuts
Nuts are typically considered a healthy addition to your diet because they contain healthy unsaturated fats and protein. They often contain several milligrams of added sodium, which hampers your body's ability to prepare for sleep, Ben Kaminsky and Howard Kaminsky note in their book "Beyond Botox: 7 Strategies for Sexy, Ageless Skin Without Needles Or Surgery." Nuts are also a heavy type of food that will fill you up but make you feel uncomfortable when you combine the protein with sodium. Eating nuts may also give you too much energy to fall asleep quickly. The protein may work against you by increasing the activity in your brain so you cannot calm down enough to get to sleep quickly and get a good night's rest. Low-sugar dry cereal can replace nuts to help prevent sleep disruption.
Ice Cream
Ice cream is often a refreshing and sweet treat, but it should be avoided right before bed. Your body has a hard time digesting high-fat foods like ice cream, which will make it harder for you to get comfortable enough to sleep well, Somer notes. Ice cream also contains several grams of added sugar, which can disrupt your sleep cycles by causing an imbalance of insulin and giving you a burst of energy. Low-sugar plain yogurt with honey is a good alternative that will not cause a sugar spike and does not contain so much fat that you will have a hard time sleeping.