The daily limit for carbohydrates on a low-carb diet can range anywhere from 20 grams to 90 grams, depending on the diet plan and the phase of the diet a person is following. These amounts are lower than the minimum of 135 grams per day recommended by the National Institutes of Health and much lower than the typical American daily carbohydrate consumption. While this low-carbohydrate intake limits the foods you can eat, most types of cheese are allowed on low-carb diets. However, those that are lower in fat and sodium are your healthiest options.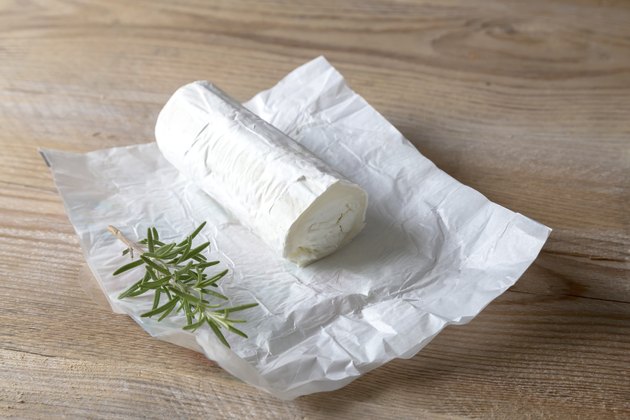 Lowest-Carbohydrate Cheeses
While all types of cheese are relatively low in carbs, some contain less than others. For example, an ounce of goat cheese, brie, camembert, gruyere or edam provides 0.5 gram of carbs or fewer. Other cheeses with less than 1 gram of carbs per 1-ounce serving include Tilsit, Roquefort, Gouda, blue, caraway, mozzarella, Parmesan and Swiss.
High-Carb Cheeses to Avoid
Gjetost cheese, which has 12 grams of carbs per ounce, is harder to fit into a low-carb diet, as is part-skim ricotta cheese, as each 1/2-cup serving has more than 6 grams of carbs. Cottage cheese is also relatively high in carbs, with more than 5 grams per 1/2-cup serving of the reduced-fat variety made with 2 percent milk.
Healthiest Cheeses for Low-Carb Diets
Many cheeses are high in sodium or fat. In fact, cheese is one of the top 10 contributors to sodium in the American diet, so if you eat too much, it will be hard to stay within the recommended limit for healthy adults of 2,300 milligrams per day. For good health and weight loss, it's best to limit your saturated fat consumption to no more than 10 percent of your calories and your total fat intake to no more than 35 percent of your daily calories.
Choose cheeses that are naturally lower in fat or sodium if you don't like reduced-fat or low-sodium cheeses. Soft goat cheese is one of the cheeses lowest in both fat and sodium, with an ounce providing just 5 grams of fat and 130 milligrams of sodium. Camembert, whole milk mozzarella, Parmesan and Tilsit have around 7 grams of fat per ounce, making them among the lowest-fat low-carb cheeses. Lower sodium options include brie, with 178 milligrams of sodium per ounce, and caraway cheese, with 196 milligrams per ounce.
Potential Cheese Weight-Loss Benefits
Since many people who follow a low-carb diet do so in the hopes of losing weight, it's a good idea to consider the potential effects of cheese on weight loss. Study results are mixed on this topic. Dairy products are sometimes touted as being beneficial for weight loss. For example, a study published in Obesity Research in July 2005 found that increasing dairy consumption may help increase fat and weight loss.
Although many of these studies focus on milk or yogurt, there are a couple that examine the effect of cheese on body weight. A study published in The American Journal of Clinical Nutrition in April 2007 found that higher cheese consumption was associated with a higher body mass index. However, another study, published in The New England Journal of Medicine in June 2011, found that cheese wasn't associated with weight gain. So there are conflicting results and the effect of cheese on weight gain still isn't clear.
Serving Size Considerations
Eating too much cheese can mean getting too much fat and too many calories in your diet, limiting any potential weight loss benefits. The recommended dairy intake set by the U.S. Department of Agriculture is the equivalent of 3 cups of dairy per day. Two ounces of processed cheese, 1/3 cup of shredded cheese, 1/2 cup of ricotta cheese, 2 cups of cottage cheese or 1.5 ounces of a hard cheese like Parmesan, Swiss, mozzarella or cheddar equal a 1-cup serving of dairy.