The muscles of your inner thighs are called adductor muscles. They control the movement of adduction, or bring the legs nearer to the center line of the body. Sports, weight lifting, or other moderate to strenuous activities may cause these muscles to become fatigued and sore. A few days of rest, along with some other simple treatments, will reduce swelling and pain and have you back in the game.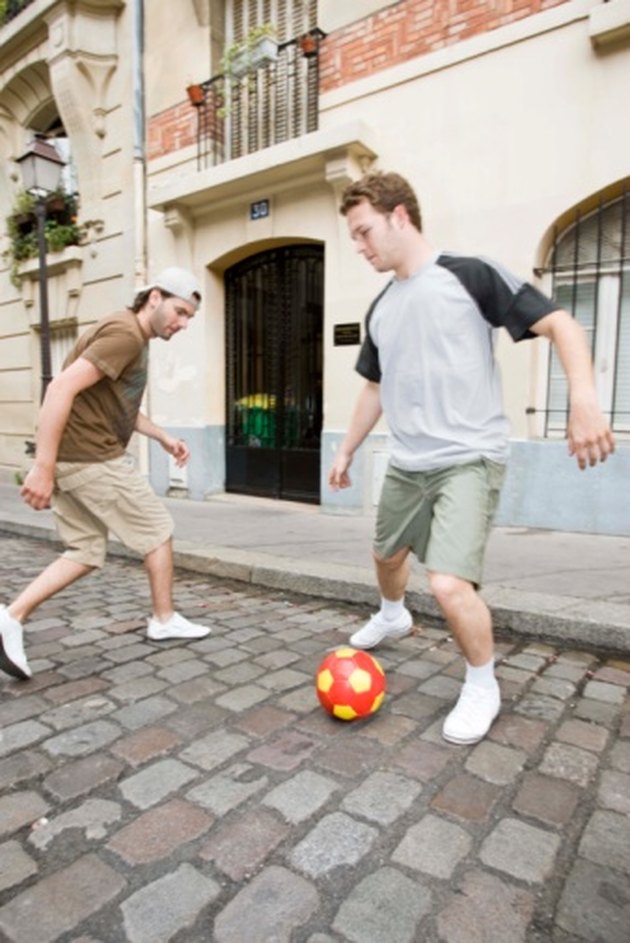 Rest
If your sore inner thigh muscles are the result of vigorous exercise or minor injury, a few days of rest is the most important thing you can do to heal them. Muscle soreness is cause by tiny tears in the muscle fiber, which although not serious, could become worsened if proper rest is not taken. Try not to engage in the activity that caused the muscle soreness, or any other vigorous activity for at least two days. When the soreness is gone, you can return to normal activity.
Epsom Salt Soak
The magnesium sulfate in Epsom salts have numerous health benefits, including relaxing sore muscles and reducing swelling. You can buy Epsom salts at almost any drug store. Pour a cup into a bath of warm water and soak for 15 to 30 minutes. Do this once or twice a day until your inner thigh muscles feel better.
Gentle Stretching
Muscles that are overworked or injured can become tight and prone to further injury. To prevent this and to relieve soreness, engage in some gentle stretching at least twice a day while your muscle soreness persists. A side lunge is a good way to stretch the adductor muscles, but be careful not to go too far. You just want to gently stretch the tight muscle; you're not going for a deep stretch here.
Ibuprofen
Ibuprofen, such as Advil, is a nonsteroidal anti-inflammatory that helps relieve pain and swelling, as in the case of muscle soreness and swelling. If you don't have any medical concerns, you can take ibuprofen according to the package directions for a few days to relieve the pain and reduce the swelling in your inner thigh muscles. You should not take it for longer than a week and you should consult your doctor before taking ibuprofen if you have any health issues or concerns.