Mucinex, whose generic name is guaifenesin, loosens up phlegm or mucus in your chest and throat, making it easier to cough it out. The expectorant is used to treat congestion due to infection, allergies or colds. Many different versions of medications contain the active ingredient guaifenesin, and sometimes guaifenesin is found in combination with antihistamines, cough suppressants or decongestants. It's important to note that any other drugs used in combination with guaifenesin can have side effects themselves, but the side effects associated with guaifenesin itself might include nausea, dizziness or drowsiness, or rash.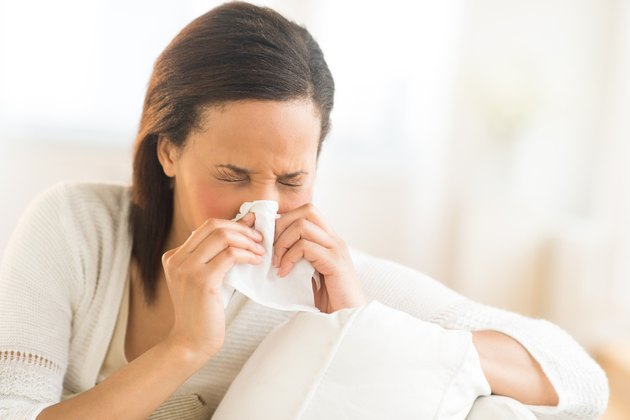 Stomach Problems
Mucinex is generally very well tolerated. In fact, according to the Merck Manual Professional Version, guaifenesin is the most commonly used expectorant because "it has no serious adverse effects." However, mild and infrequent side effects have been reported. The most common side effects are nausea or stomach upset and vomiting. Stomach pain and diarrhea have also been reported.
Problems Related to the Nervous System
Side effects involving the nervous system are sometimes seen in people taking guaifenesin. These include dizziness, drowsiness and headache. In a clinical study published in "Respiratory Research" in 2012, only about 3 percent of patients reported any kind of nervous system side effect, and the authors deemed this likely not due to the medication.
Skin Rash
A rash is an even more rare side effect, but it sometimes occurs in people taking guaifenesin. The skin irritation can sometimes include hives.
Other Side Effects
There have been a few, extremely rare cases of guaifenesin producing other side effects, but these are often in cases where a combination drug was used and, in some cases, abused. Guaifenesin is sometimes paired with either ephedrine or dextromethorphan, which have been known to be abused by young people. A few cases have reported kidney problems such as stones formed of guaifenesin when overused.
Warnings
While Mucinex is generally very safe for most people, if you experience any signs of an allergic reaction, seek immediate medical attention. These include hives, difficulty breathing or swelling, particularly of the throat, lips, tongue or face. The safety of guaifenesin for pregnant or nursing mothers has not been determined, so you should consult your physician about this before using the drug. Also, if you have a cough or cold that has persisted for more than a week, it is time to see your doctor.