Weight Watchers encourages balanced eating through a point system that assigns lower points to nutritious foods and higher points to less healthy foods. Instead of denying yourself treats, you simply deduct the points from your daily allotment, and aim to remain within your target range. Weight Watchers has a motto that no food is off limits, and this includes pizza. When you crave this savory comfort food, it's necessary to know how many PointsPlus values it will cost you. Choose wisely so that you won't feel guilty for indulging.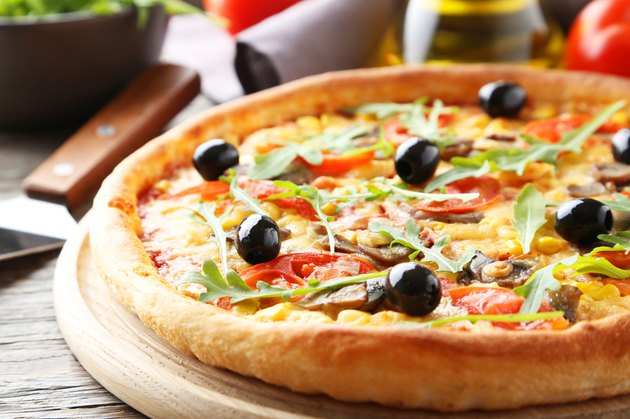 The Full Picture on Points
The typical slice of parlor pizza has an average PointsPlus value between five to 11 points. To put this into perspective, 26 PointsPlus values is the minimum daily target, according to the Weight Watchers website, so that a single slice could potentially use 20 to 40 percent of your points for the day. Keep in mind that the slice you choose may have a significantly higher PointsPlus value than this range, depending on your toppings. Weight Watchers offers an interactive, pizza cheat sheet, where you can drag toppings onto your slice to get the total PointsPlus value.
To remain within your daily points range, when you have foods such as parlor pizza, the goal is to make adjustments to your other meals by choosing foods that have a higher nutrient-density and a lower energy-density. This approach helps keep your meal plan more balanced. Low energy-dense foods provide fewer calories per volume, allowing you to eat more and to feel fuller, while cutting back on calories. Foods in this category tend to have a high water content, a high fiber content, or both. Vegetables, fruits, beans, other legumes and whole-grains such as oatmeal, are prime examples of low energy-density foods. The Zero PointsPlus list contains many foods that are low in energy density.
Toppings and Crust Thickness Make a Points Difference
As you may figure, the more non-veggie toppings you get on your pizza -- such as pepperoni or extra cheese -- the more PointsPlus values it will cost you. When choosing pizza from your local pizza parlor, keep things on the simple side. For example, the typical slice of thin-crust cheese pizza has a PointsPlus value of five. Once you start adding various meats or other ingredients, you'll easily use up a good chunk of your daily points.
If you keep things conservative, you'll fair better. For example, a regular cheese slice has an approximate PointsPlus value of seven. Adding 1/2-ounce of pepperoni, which is about five thin slices, bumps up the PointsPlus value to eight. Thick-crust pizza is higher on the PointsPlus scale, so expect to deduct anywhere from seven to 11 PointsPlus values, for a slice of the typical thick-crust cheese pizza. Likewise, a small slice of deep dish pizza with one meat topping has a PointsPlus value between seven and 10. Skip white pizza, which typically has ingredients that significantly up the PointsPlus value, such as extra cheese and garlic oil. A typical slice of white pizza can have a PointsPlus value of 15 points, which is more than half your daily target.
Try Mock Pizza for Fewer Weight Watchers Points
A great way to save points is to make an alternative version of pizza. This is great for days when you crave pizza but don't have enough points to spare. It's also a good way to learn to make healthier versions of comfort foods as a permanent lifestyle change. Take a large portobello mushroom cap and spray it with cooking spray. Place it on a cookie tray, and layer tomato sauce and your favorite pizza toppings on top. Pile on non-starchy veggies such as spinach and bell peppers, since they won't cost you any points. Stick to 1 ounce of cheese, which has a PointsPlus value of three. Low-fat cheese will cost you two points. One large cap counts as a slice and you'll count the points for the sauce and toppings you choose for your mock pizza. If you're using the Weight Watchers' recipe calculator, include all the ingredients -- even zero-calorie fruits and vegetables -- as they count toward your daily PointsPlus values nutritionally.
Make it Fresh and Add a Twist
Instead of having a parlor slice, make fresh pizza. It's more filling, and you have control over the ingredients, making it possible to find creative ways to save points. Make a fresh tomato sauce that will only cost one PointsPlus value by choosing freshly chopped tomatoes and your favorite Italian herbs. The part that costs you one PointsPlus value is the olive oil, and you'll use about 1 1/2 teaspoons of olive oil to make sauce. Choose low-carb pizza dough, or get creative and try cauliflower pizza crust. A baked cauliflower pizza crust is crispy, folds like regular dough and tastes just as good as the real thing. It's also easy to make, and will only cost about three PointsPlus values per slice.