Your body needs some salt to function properly, but most people don't have to worry about being deficient in salt or sodium, the mineral present in salt. If you have high blood pressure or heart problems, your doctor has probably recommended that you reduce how much salt you eat each day, and knowing what foods are salt-free can help you accomplish that goal. A sodium-free food is defined as any food that contains less than 5 milligrams of sodium per serving; these foods are virtually salt-free.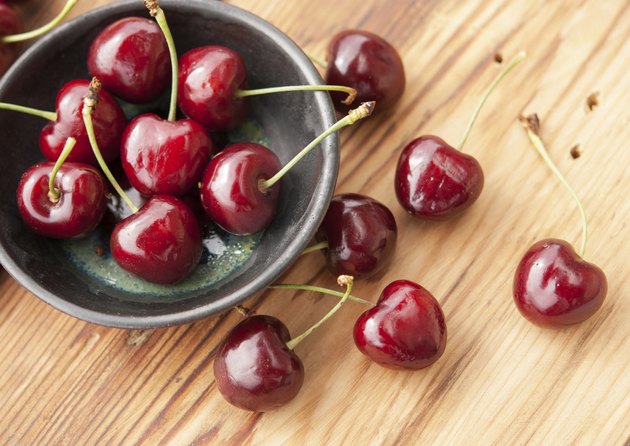 Fruits
Fruits are a nutritious addition to any diet because they supply key nutrients, such as fiber and vitamin A, that are necessary for good health. Most fresh fruits are salt-free, as well, making them a healthy choice if you're trying to cut your salt intake. A 1-cup serving of canned peaches or pears, for example, contains 4 milligrams of sodium, which translates to 0.002 teaspoon of salt, which is just a couple of grains. A serving of fresh apricots, watermelon or raspberries contains 3 milligrams of sodium, and a serving of most fruit juices, mangoes, tangerines, strawberries, pineapple or bananas offers just 2 milligrams of sodium. Blueberries, blackberries, apples, prunes, dates, oranges, nectarines, grapefruit and cherries are salt-free as well.
Many Vegetables
Like fruits, vegetables supply nutrients, such as fiber and potassium, and most varieties are salt-free. The exception is canned vegetables, which can contain large amounts of added salt. If you eat canned vegetables, look for versions that don't contain salt, which will be labeled "no sodium added" or "sodium-free." A serving of hot chili peppers, cauliflower, snap yellow beans, green bell peppers or mushrooms contains 4 milligrams of sodium, and a serving of broccoli, cooked onions, lettuce, sweet peppers or corn contains 3 milligrams of sodium. Fresh squash, radishes, eggplant, asparagus, tomatoes and avocados are all salt-free, too.
Some Grains and Legumes
Some canned beans contain added sodium, but opting for sodium-free beans is one way to enjoy the legumes salt-free. Soaking and cooking dried beans is another salt-free option. Most cooked pasta, in dried form, is salt-free, and to keep it that way, you shouldn't add salt to the water when you're boiling the noodles. Lentils, rice, oat bran, wheat flour and plain air-popped popcorn are additional grains and legumes that are salt-free.
A Few More Salt-Free Foods
Fresh herbs, such as basil, dill, rosemary, parsley and oregano, are salt-free, as are certain dried spices, such as black pepper, garlic powder, cumin, paprika, nutmeg, cinnamon and cayenne pepper. Cooking oils, such as olive, canola, soybean, peanut and sunflower, are salt-free as well. Unsalted raw nuts don't contain added salt either. Vinegars, most alcoholic beverages and plain coffee and tea are also salt-free foods.