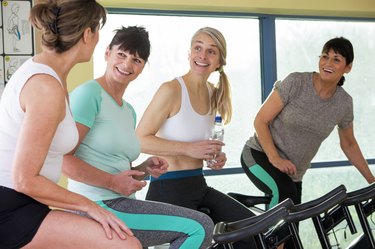 Most stationary bikes have two-sided pedals: one side is a platform with an attached toe clip — or cage — and adjustable strap; the other side has a mechanism that fits a cycling shoe outfitted with an SPD clip. While you can wear a regular pair of gym shoes and use the toe cages and straps to keep your feet connected to the pedals, a pair of stiff-soled cycling shoes will increase your power and foot comfort on the bike.
Shimano Pedal Design
Shimano Pedal Design, or SPD, is a versatile clipless pedal system. These pedals have clips that fit SPD cleats on one side and toe cages with straps on the other. In facilities where a large percentage of indoor-cycling students use cycling shoes, some bikes may have full SPD pedals. Instead of a platform, SPD-only pedals have clips on both sides. They're lighter in weight and more comfortable to ride than double-sided pedals if you prefer to clip in. You can't use SPD-only pedals without the appropriate corresponding footwear.
Compatible Cycling Shoes
All cycling shoes have cleat pods on their soles where you can attach cleats that fit into corresponding pedal clips. When you buy a pair of clipless pedals to install on a bike, they come with a set of shoe cleats. Since you don't need to buy pedals for an indoor cycling class, you can go to a bike shop and buy a pair of cycling shoes and clips separately, which they can install for you. All types of cycling shoes — road, mountain, touring and indoor cycling — have models that are SPD-compatible, since SPD is arguably the most utilized clipless system. Some shoes, however, have cleat pods that are specifically made to fit other types of cleats.
Best Indoor Cycling Shoes
Cycling shoes made for road riding are extremely stiff and have a narrow fit. Their soles aren't rubberized because they're not meant to be walked in. Cleats aren't recessed on road shoes, either, which makes them even more difficult to walk in, especially on a slippery, sweaty floor. Cycling shoes made for mountain biking, touring and indoor cycling classes have wider toe boxes and rubberized soles. The cleat is recessed on these shoe types so you don't feel it as much with each footstep. Shoes with breathable uppers are the best option for indoor cycling.
Before and After You Buy
Ask your cycling instructor what type of pedals are on the bikes where you work out. In some cases, the facility may not have clipless pedals on any of its bikes. In the rare and unlikely event that the bikes have another clipless system, such as Look, you can shop for shoes and cleats accordingly. Make sure your shoes fit snugly, especially in the heel cup. You don't want your heel pulling out of the shoe through the back half of each pedal stroke. The widest part of the shoe should be at the ball of your foot. Have knowledgeable bike store staff or your instructor help you install the cleats. Proper positioning is crucial to avoid injury. You may find you have to adjust the positioning after your first ride.