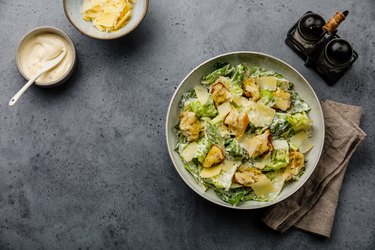 If it's salad, that means it's automatically healthy, right? Well, not so fast. A salad is a great way to incorporate vegetables into your diet, and with the convenience of items like the Costco Caesar salad kit, they're easy and accessible. But always take a look at the nutrition facts first.
Is Salad Always Healthy?
As the U.S. National Library of Medicine explains, salad isn't healthy by default. Salad can be a great source of vitamins, minerals and fiber, but too many toppings or too much dressing can mean you have a lot of added calories, fat and sodium. You should be careful about things like croutons, cheese or creamy dressings.
Of course, things like croutons, cheese and creamy dressings are primary aspects of Caesar salad, which is often available in delis and prepared food sections such as the popular one at Costco Wholesale, a warehouse that offers competitive prices on brand-name items through membership. In addition to offering groceries, household necessities and other retail goods, select Costco locations have food courts.
Although Costco does not list nutritional information for its food court items on its website, these details are available upon request through its Customer Service department. When it comes to the Costco Caesar salad nutrition, a 20.6-ounce serving has 650 calories with 41 grams of fat, 35 grams of carbohydrates and 40 grams of protein. Those Costco salad calories are substantial!
Comparing Costco Salad Calories
If the Costco salad has calories that exceed your dietary limitations, you can always opt to pick up a Costco Caesar salad kit from the service deli. Like the items in the food court, these do not have nutritional listings available online, but you can get them through Customer Service.
The calories in the Costco Caesar salad kit are much more reasonable: According to Costco Customer Service, a 1-cup serving has only 110 calories, 8 grams of fat, 7 grams of carbohydrates and 4 grams of protein.
So how does the Costco Caesar salad nutrition stack up to other Caesar salads out there? By contrast, Safeway has full details on its website about both the Caesar salads available in its deli and the make-at-home kits available in the produce department.
A Boars Head salad chicken Caesar can be picked up in the deli packaged in a 500-calorie portion, which has 38 grams of fat, 9 grams of carbohydrates and 32 grams of protein. Its ingredients are mainly lettuce, chicken breast and water, although it does have 1.5 percent or less of other various ingredients in its dressing.
Safeway also lists the nutrients for the Fresh Express Caesar Supreme salad kit, which includes three 2.5-cup servings. A single serving has only 160 calories coming from 14 grams of fat, 7 grams of carbohydrates and 4 grams of protein. The kit contains romaine lettuce along with croutons and dressing.
Other Nutrition Options
If the Costco Caesar salad nutrition doesn't fit into your diet, you can always make your own Caesar salad at home; however, most traditional Caesar salads will have around the same calories as the kits available at either Costco or Safeway.
According to USDA FoodData Central, a typical Caesar dressing has about 80 calories per tablespoon, and the base of chopped romaine lettuce has 15 calories per 1 1/2-cup serving. Add a 1-ounce serving of Parmesan cheese for only 111 calories and a quarter-cup of plain croutons for 31 calories. That totals about 237 calories.
Your better bet would be to experiment with healthier variations. Harvard T.H. Chan School of Public Health suggests making your Caesar dressing with a base of pureed white beans for a boost of fiber, and to cut down on the fat.
Just because store-bought versions like the Costco Caesar salad have nutrition drawbacks doesn't mean Caesar salad always has to be a high-calorie option. Get experimental in your own kitchen and enjoy!