The best diet is one that's balanced to provide essential nutrients and stays within your daily calorie goals. Perhaps most important, it needs to be one you can stick with for the long run. Over the course of a year, many women tend to slip back into old habits and end up at the same weight as when they started a diet, so your ability to adhere to a meal plan is critical. Keeping that in mind, some dietary components can help you lose fat, such as protein, lower carbs, fiber and green tea.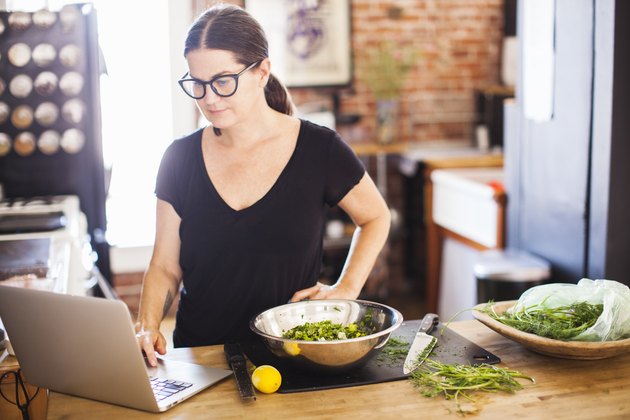 Low-Carb vs. Low-Fat Diets
Low-carb and low-fat diets both lead to weight loss, and they're good for lowering the risk of cardiovascular disease, according to a review published in PLoS One in October 2015. The review also concluded that people following a low-carb diet lost a little more weight compared to those consuming a low-fat diet.
Low-carbohydrate diets may also have an advantage for losing fat. In another study, obese adults were assigned to either a low-fat or a low-carb diet. After 12 months, the low-carb group had significantly higher levels of adiponectin, reported a Nutrients article in September 2015. Adiponectin is a hormone produced by fat cells that increases fat burning. Its levels are generally lower in people who are overweight.
A diet that's low in carbs and high in protein provides a combination that impacts fat metabolism. Protein keeps blood levels of insulin steady, which is good for burning fat because high levels of insulin result in the body storing fat rather than using it for energy. The brain needs glucose from carbs or ketones produced from breaking down fats. As a result, consuming fewer carbs makes the body burn more fat for fuel.
Definition of Low-Carb Diet
The U.S. Food and Drug Administration hasn't established a standard definition for a low-carb diet, so you'll find varying recommendations. Guidelines reported in Nutrition and Metabolism in 2008 stated that a low-carb diet is one that provides fewer than 130 grams of carbs each day. Consuming less than 30 grams of carbs daily is a very low-carb ketogenic diet. When carbs are severely reduced, you're sure to burn more fat to fuel the brain, but a ketogenic diet also increases the risk of kidney stones, high cholesterol and nutritional deficiencies. Be sure to protect your health by consulting a physician before starting a very low-carb diet.
When you plan a diet, consider your normal activity level and the exercise regimen you'll implement as part of a weight-loss plan. Carbs are important sources of energy, especially for muscles, so performance suffers when you eat less than 130 grams daily, notes Iowa State University. To support your energy needs while encouraging fat loss, you may want to consider a moderate-carb diet, which means getting 26 to 45 percent of your daily calories from carbs, which is 130 to 225 grams of carbs per day on a 2,000-calorie diet.
Manage Macronutrients to Lose Body Fat
Most women consume half of their daily calories from carbs, according to the Centers for Disease Control and Prevention, or CDC. Cutting out 30 grams of carbs daily would decrease your calorie intake by about 120 calories.
Next take a look at your fat intake. Based on a 1,500-calorie-a-day diet, women need 33 to 58 grams of fat daily, according to the Institute of Medicine. The CDC reports that women consume close to the maximum amount of fat every day, so chances are you can safely eat fewer fats. You'll drop another 126 calories from your daily diet by simply cutting out 14 grams of fat daily.
Cutting those amounts of carbs and fat would decrease your intake by about 250 calories per day, enough to lose 1/2 pound a week.
Round out your macronutrient intake by making sure you get 46 grams of protein daily. The easiest way to stay on course with your carb, protein and fat goals is to use an online tool like the SuperTracker from the U.S. Department of Agriculture, which tallies the calories and nutrients in your diet.
Foods to Eat and to Avoid
A long-term study, dubbed the Improving Diet, Exercise and Lifestyle for Women Study, found that women lost more fat when they followed a high-dairy diet, reported the Journal of Nutrition in 2011. According to these results, getting some of your protein from low-fat or fat-free dairy products may increase fat loss. Otherwise, choose fish, beans, skinless poultry and lean meat to meet your protein requirements.
Lowering carbs won't have such a positive impact if your diet includes unhealthy carbs. Be sure to choose complex carbs, such as whole grains, beans and starchy vegetables. Avoid processed carbs, like white flour and white rice, and added sugar because they'll spike blood sugar and increase levels of insulin. Fiber from these complex carbs is an essential nutrient for cardiovascular and digestive health, but it also boosts weight loss by making you feel full and slowing digestion. All of the complex carbs are good sources of fiber.
Finally, be sure to drink plenty of water every day and eliminate sugary beverages. Add green tea and a moderate amount of coffee to your daily diet because they'll promote the breakdown of fat. Caffeine in coffee and green tea increases fat metabolism while decreasing glucose metabolism. Green tea also contains a phytonutrient -- epigallocatechin-3-gallate or EGCG -- that stimulates fat burning, according to a 2013 report in the American Journal of Clinical Nutrition.