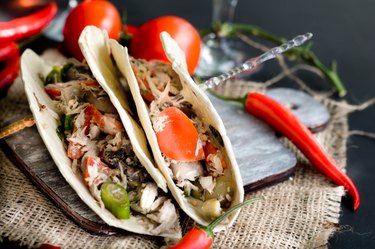 Carnitas are a Mexican dish consisting of small pieces of pork that are cooked in their own fat, salt, and sometimes oranges. They're typically considered a special occasion food, served often at celebrations within the Mexican culture and at most Mexican restaurants.
Calories and Macronutrients
According to the website My Fitness Pal, carnitas contain approximately 102 calories per 2 oz. One serving can provide your body with 16 g of protein, 1 g of carbohydrates and 3 g of fat.
Vitamins and minerals
Carnitas contain only two vitamins: vitamins A and C. In a 2-oz. serving, there are 100 IU of vitamin A and 1.8 mg of vitamin C. Carnitas also contain essential minerals such as calcium, iron, sodium and potassium. Each serving contains about 10 mg of calcium, approximately 1 mg of iron, 91 mg of sodium and 255 mg of potassium.
Ingredients and types
Typical ingredients in carnitas are chicken broth, pork, cilantro, cumin, bay leaves, onion and chili sauce. Other ingredient options include tortillas and salsa, which would constitute an a la carte order of carnitas, which is the most popular order.
Considerations
Due to the many different techniques and ingredients used to prepare carnitas, calories and macronutrients will vary depending on the preparer.