Good nutrition is a key component of being active. The foods you eat before you exercise can improve or inhibit how well you perform. If you're planning a long bike ride, certain foods will provide the fuel you need for endurance and stamina so you have all the energy you need to successfully complete your ride.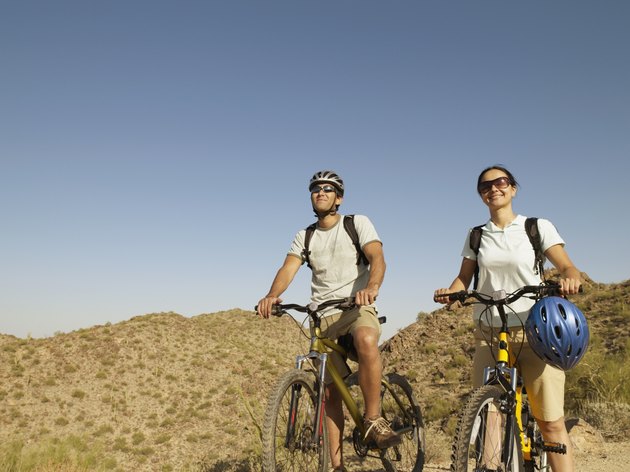 Chow Down on Carbohydrates
Carbs have gotten a bad rap, but they're actually essential for the energy required to be physically active, such as riding a bicycle. Load up on carbs the night before a long bike ride, recommends the Road Bike Rider website. In fact, eating plenty of carbs will ensure that your muscles have plenty of glycogen, a type of stored carbohydrate that turns into glucose to help sustain energy and endurance. Whole-wheat bread and pasta; other whole grains, such as quinoa or oatmeal; and fruits and vegetables are all nutritious sources of carbs. Include any of these in your dinner the night before a bike ride, as well as breakfast the morning of the ride.
Power Up With Protein
Protein is essential for energy, but it also helps keep your belly full so you don't end up famished before you've completed your long bike ride. Nut butters, such as peanut or almond butter, are a good source of protein, and smearing some on a whole-wheat bagel or pita is one way to power up before your bike ride. Yogurt, milk and cheese are also good sources of protein, making them good preride snacks. A serving of lean meat, such as white-meat chicken, is another way to supply your body with plenty of protein the night before or morning of your long bike ride.
Mix It Up
Energy bars offer a good balance of carbohydrates and protein and are a quick way to sneak in a bit of sustenance before taking off on your bike. Foods that contain iron, such as lean meat and beans, are another wise food choice before a long bike ride. Iron delivers oxygen to working muscles, according to the Bicycling website. Calcium-rich foods, such as milk and yogurt, will help your muscles contract and fire properly, and foods with omega-3 fatty acids, such as salmon and walnuts, will help ease pain and inflammation associated with overworked muscles.
Hydrate Yourself
The fluids you put into your body before a long bike ride are just as crucial as the foods you choose to eat. Proper hydration is essential for survival, but getting plenty of fluids will also ensure that your muscles are working properly. Of course, water is the obvious choice, and you should drink plenty, especially in the few hours before a long bike ride, but plan to bring additional water along to sip throughout the ride. Tea and diluted juices will also work.