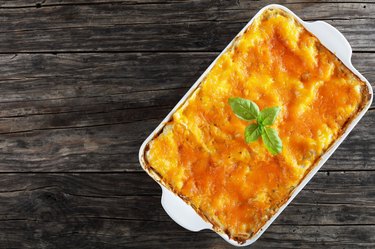 Commercial diets like Jenny Craig take the guesswork out of meal prep and diet planning. If you can't afford the meals or you want to try making your own, there are substitutes for Jenny Craig foods at most grocery stores.
Jenny Craig vs. Other Diets
Jenny Craig is a company that makes and delivers read-made meals to dieters. Along with Weight Watchers and Slim Fast, it's one of the most popular diet plans available today. There's also some research on commercial products like the lean cuisine diet versus Jenny Craig.
In an August 2016 review published in Obesity Reviews, the Jenny Craig diet reduced A1c levels in patients with type II diabetes to a greater extent than using nutritional counseling. A1c levels are measured via a blood test, and they show your doctor whether your average blood sugar levels are high or low.
A different study, published in September 2014 in the Journal of the American Medical Association, has compared 11 branded diets and found that Jenny Craig produced similar weight loss as other popular diets like Atkins and Volumetrics. Jenny Craig was the only diet that didn't have diminishing results after 12 months.
The meal plans from Jenny Craig are carefully designed by dietitians, and the food is cooked by real chefs. You'll follow a meal plan that tells you what days and times to eat each meal. That way, you'll get adequate amounts of protein, carbs and fat each day. There are six meals per day in the diet, and each is easy to heat up and prepare.
Jenny Craig Diet Overview
While the meal plan takes care of most of the diet guesswork, there's also a weekly check-in with someone at Jenny Craig to answer your questions and monitor your progress. Perhaps the best thing about this diet is its convenience. Your meals are all cooked and sent to you. You don't have to worry about cooking, cleaning or grocery shopping.
While the diet works, keep in mind that you should also participate in a workout program. A February 2018 study published in BioMed Central has found that combining diet and exercise improves overall health to a greater extent than diet or exercise alone. Plus, you'll achieve the target weight faster by working out regularly.
If you find the meals included in this diet too expensive or limiting, there are substitutes for Jenny Craig foods at your local grocery store. While the nutrition facts might not be the same, you can closely match Jenny Craig meals on your own.
Jenny Craig Substitutes List
The Jenny Craig lasagna is listed as a fan favorite on their website. They don't skimp on the ingredients either. In the lasagna, they use real pasta, beef, mozzarella and ricotta cheese. A small portion has 220 calories, 6 grams of fat, 29 grams of carbs and 14 grams of protein.
Alternatively, you can buy a frozen Stouffer's lasagna at a local grocery store. Their family size lasagna, for example, has 290 calories per serving. There are also 12 grams of fat, 27 grams of carbohydrates and 18 grams of protein. Keep in mind that there are 5 servings in one box, so you'll need to limit yourself to one serving to stay close to the Jenny Craig portions.
If you're looking for a breakfast treat, the Jenny Craig diet has a cinnamon coffee cake. One serving has 170 calories, 5 grams of fat, 29 grams of carbs and 4 grams of protein. While it's tasty, the small portion size keeps you from eating too many calories.
You can easily find an alternative for this Jenny Craig food in grocery stores. You can purchase Drake's coffee cakes, which are a box of individually wrapped small coffee cakes. In one cake there's only 150 calories, 5 grams of fat, 25 grams of carbs and 2 grams of protein. That's actually slightly fewer calories than the Jenny Craig version, and the portions are already created for you.
Jenny Craig Snack Alternatives
If you get hungry between meals, you'll need a snack option to tie you over. Snacks like chips can be high in calories, but you may reach for lower-fat alternatives. For a snack, Jenny Craig has a popular cheddar cheese crisp option. These are puffed potato chips with a cheddar seasoning. There are 120 calories, 18 grams of carbs, 4.5 grams of fat and 2 grams of protein in each serving.
If you're craving potato chips but want to stay away from anything that's too greasy or fatty, try Lay's baked potato chips. Since they're baked instead of fried, there's less fat and fewer calories than in regular potato chips. One serving of baked potato chips has 120 calories, with 3.5 grams of fat, 22 grams of carbs and 2 grams of protein. There are two servings per bag, so try to eat half to match the serving from Jenny Craig.